Detectives are searching for four 'wash wash' individuals who are said to be part of a wider organization involved in the unlawful manufacture of counterfeit money.
Three of the suspects were recorded in video recordings circulating on social media giving one of their collaborators a dog's thrashing after he went partying and displayed a lot of notes accompanied by a bevy of beauties, disclosing their nefarious transactions.
'Police launch manhunt for four 'wash wash' suspects captured in viral video pic.twitter.com/CWX3PlYM6z

— PEOPLE DAILY (@PeopleDailyKe) September 7, 2021
The accomplice who appeared intoxicated in a drinking spree, flaunted the money as he promised the seemingly excited
women
, an adventurous and fun-filled trip to the coast.
Their plans however went up in smoke and ended in premium tears for the man, when his accomplices learnt about his escapades. They stormed his house and descended on him mercilessly accusing him of disloyalty, betrayal and not 'working smart.'
Kindly watch the
video clips
including the three following this post and assist us in identifying the suspects through our
#FichuakwaDCI
anonymous hotline
Kenyans reactions on Wash Wash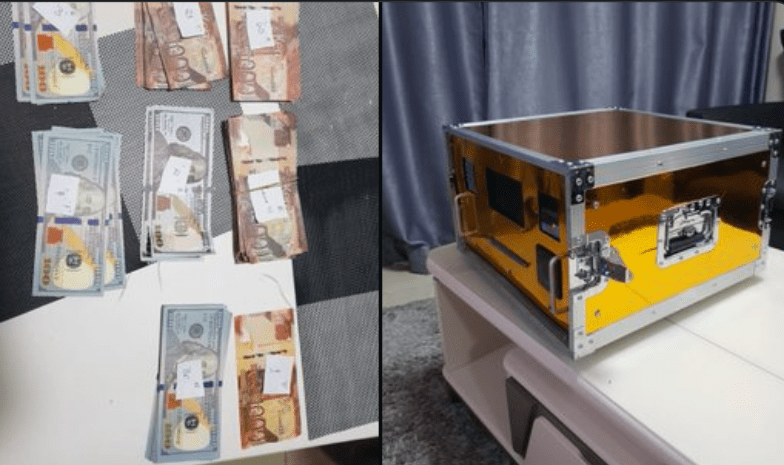 Retweet till the right people come out to help Edgar obare. His brother has just been kidnapped, the wash wash guys are after his family now.
Retweet Retweet Retweet.
Mercedes Benz murkomen Waiguru kieni Kanini kega #MwelekeoNiInternet #RutosLyingTongue blessed Sunday pic.twitter.com/0E1ELNzjRF

— L.Y.N.N🇰🇪 (@_fiona254) September 5, 2021
Na huyu kinyozi kwani anaspecialize tu na drug dealers/wash wash gang? First it was Kabogo, now it's Sonko…. he must be a money launderer too. Otherwise which other barber has ever afforded a Mercedes van? pic.twitter.com/VebqAKKeyj

— Cyprian, Is Nyakundi (@CisNyakundi) September 4, 2021
The three are believed to be part of a syndicate that is behind the rising cases of money laundering, commonly known as wash wash.
Several fake US dollar notes in denominations of 100 and a machine believed to be used in developing the fake notes were found in the house, pic.twitter.com/36qf5n0mps

— DCI KENYA (@DCI_Kenya) September 3, 2021
This is where the "Wash Wash" Business started in Kenya. 🤭 pic.twitter.com/m4goGSfstP

— Japhe🇰🇪KE (@japhe_ke) September 6, 2021
South Africans are buying NEW (showroom) cars for themselves. In Kenya, youths are voting for criminals and wash-wash gangs who've destroyed the economy leaving them no choice but to immigrate to do odd jobs in America. Who cursed us? pic.twitter.com/hmcGNsHfZ7

— Cyprian, Is Nyakundi (@CisNyakundi) August 31, 2021
Comments