The national women's volleyball team Malkia Strikers are set to arrive in Japan on July 9 at 7:30 pm, about two weeks before the opening of the Tokyo Games.
Standard Sports have learnt, the team are on board Qatar Airways and have about four hours to land at Narita Airport, Tokyo.
Organisers of the delayed Tokyo Olympics will require COVID-19 tests for non-Japanese athletes and other participants upon arrival in Japan, according to a draft of measures proposed by organisers.
There are several forms to be filled and Apps to be downloaded as part of the Covid-19 compliance protocols.
The measures are the latest response by both the IOC and Tokyo officials.
Malkia Strikers were the first batch to leave for Japan last evening ahead of their two-week acclimatisation period in Karume.
The trip comes a day after President Uhuru Kenyatta handed over the official flag and travelling kit to Team Kenya.
Inspired by Kenya's national colours and symbols, the attire will be donned by the travelling contingent.
Speaking during the send-off ceremony for the team at State House, Uhuru lauded Team Kenya for their continuous efforts to put Kenya on the map through their exploits on global sporting stages.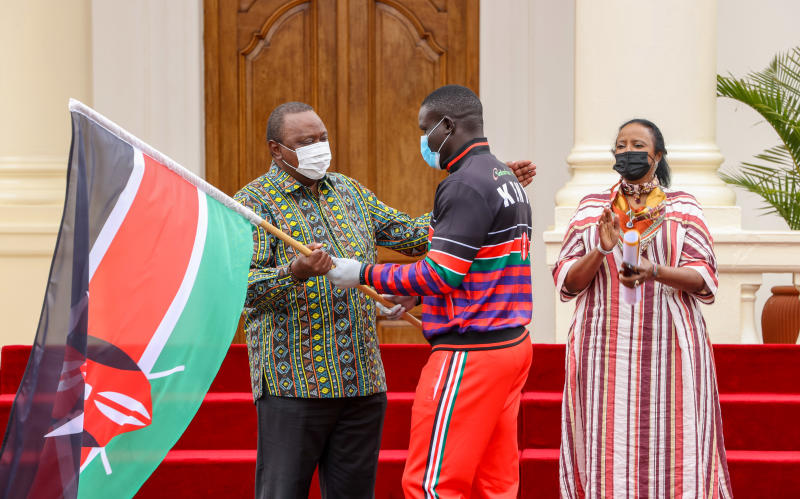 "Kenyan sports have attracted the best talents in the country and our values of hard work and service are deeply entrenched in our athletes," said Uhuru.
"The 2020 Tokyo Olympics is another opportunity for us to market our country in the sporting world. For this reason, my government has and will continue to support you as you take part in this years' Olympic games."