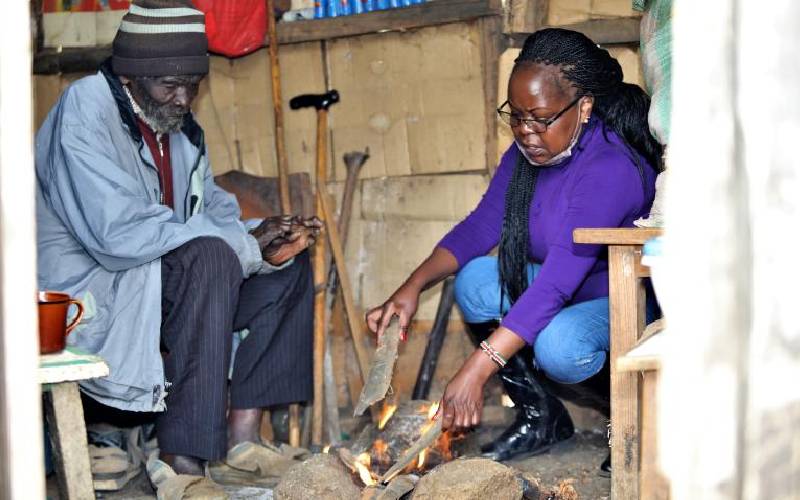 As temperatures continue dropping, senior citizens and street families on the slopes of Mt Kenya are desperate. 
They are looking for ways of keeping warm as they pray for the cold season to end. The lowest temperature recorded since June is 7.0 degrees Celsius.
A spot check on the streets of Nyeri, Meru and Nanyuki shows most of the street families sleep in open places with no blankets. Some of them light fires to keep warm.
Kelvin Collo, a street boy in Nyeri, said he and his colleagues sleep on the verandah without blankets and warm clothes "enduring very long nights".
"We cover ourselves with sacks since we don't have blankets, most of us get sick due to cold-related issues but eventually get used to that," Collo said.
Unusually cold year
Mary Wairimu, 100, who lives in Gikomo village near Mweiga township in Kieni, Nyeri with her great-grandchildren and her brother said this was an unusually cold year.
"I live with my brother and my great-grandchildren in a house with a leaking roof. We don't have firewood to keep warm as the little is for cooking. The cold is really biting us hard and I am afraid of contracting a respiratory disease," Wairimu said.
Her brother Kamau Njuguna, 95, said he has been experiencing abnormal numbness in joints and hands since the cold weather kicked in.
Wanjiku Kairu who runs Purity Elderlycare Foundation has been mobilising donations of firewood to keep the elderly citizens warm. Ms Kairu said about 1,000 elderly citizens are in dire need of care during this season in Nyeri alone.
"I am liaising with a number of saw millers to get firewood which is the biggest challenge to most rural families," Kairu said.
Kairu has also started an 'Adopt a Granny' initiative where well-wishers are encouraged to identify an old woman they can support financially to cater for shopping and fuel.
Nyeri County Youth and Social Services Executive Esther Ndung'u said her department has established programmes aimed at mitigating the effects of cold amongst the locals as temperatures continue to drop.
"We are encouraging the street families to relocate to Thunguma Children's home, but the main challenge is that most of them are getting back to the streets which they are used to. We also have our social workers who are furnishing us with reports on the most vulnerable for quick assistance," Ndung'u said.
Special attention
Muranga County Director for Meteorological Director Paul Murage said Mt Kenya region is experiencing a minimum temperature of 7.0 Degree Celsius and warned of old age-related ailments such as pneumonia, asthma and Covid-19.
"The elderly require special attention since the low temperatures may expose them to such ailments. They require to eat well and keep warm until the cold clears up," the director said.
He also urged motorists to drive with caution as mist and fog will be experienced sporadically during the cold season.
In Meru town, hotels reported an increase in hot drink business, especially during morning hours when the biting cold is harsh.
Nancy Karwitha, who has been living in the streets for two years and nursing a two-month-old baby, said the cold was becoming unbearable.
"The morning and evenings are so cold. Older street children are able to find ways to survive but a mother like me has it rough, but well-wishers have helped a lot," Gatwiri said.
Ms Muthuri mobilised friends and together they have been raising funds to buy foodstuff which they cook and take to the street families.
The Meru Central Dairy Union and Mafuko have been some of the responders donating milk and bread for breakfast.
Monitor water pumps remotely via your phone
Tracking and monitoring motor vehicles is not new to Kenyans. Competition to install affordable tracking devices is fierce but essential for fleet managers who receive reports online and track vehicles from the comfort of their desk.