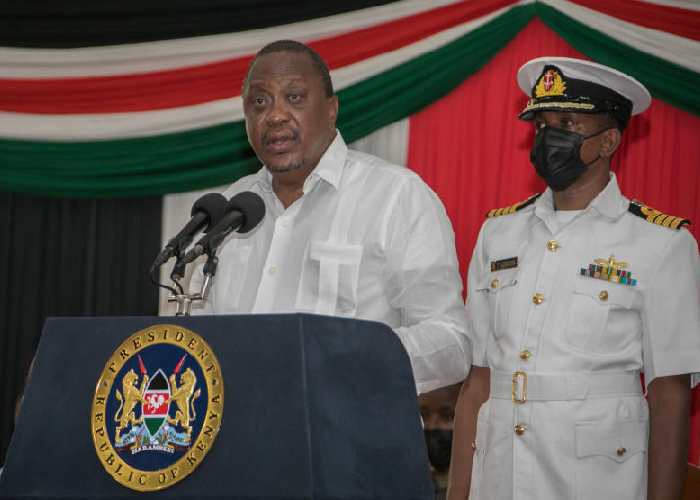 President Uhuru Kenyatta on Friday, July 9 showered praise on ODM leader Raila Odinga and Wiper chief Kalonzo Musyoka as "forward-thinking" leaders.
Speaking in Makueni County on his first day of Ukambani tour, the President said unlike Odinga and Kalonzo, "other people were moving around the country dishing out cash to the youth and inciting Kenyans". Kenyatta didn't mention names of the people he adversely referred to.
Both Odinga and Kalonzo were with the Head of State at Thwake Dam, where he inspected the progress of the Sh82 billion project aimed at benefiting 1.3 million people.
"When Raila speaks, his remarks revolve around infrastructure. He understands the ingredients of transformation. I can say the same about Kalonzo. When he speaks, he limits his talk to infrastructure. The two are not moving around the country inciting Kenyans or engaging in a shouting match like other people," he said.
"When you stand to speak, don't incite the youth. Have a working plan and an execution roadmap. Empty rhetoric and handouts don't help, at all," he added.
The President is on a two-day tour of the larger Ukambani region.
Monitor water pumps remotely via your phone
Tracking and monitoring motor vehicles is not new to Kenyans. Competition to install affordable tracking devices is fierce but essential for fleet managers who receive reports online and track vehicles from the comfort of their desk.