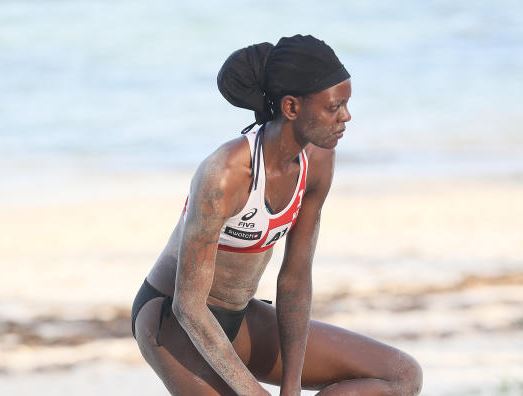 Experienced Kenya Pipeline player Gaudencia Makokha has been made the captain of the national women beach volleyball team to the Olympics.
Makokha or Gau as she is popularly known will partner with Brackcides Agala to make their debut at the games that run from July 23 to August 8.
Kenya made history a fortnight ago after Makokha, Agala, Phoscah Kasisi and Yvonne Wavinya beat Nigeria in the final of Africa continental Cup-cum-Olympic qualifiers to grab the sole ticket to represent Africa at the Tokyo Olympic Games.
However, it is Makokha and Agala who have been picked for the games and the team is currently training at the Flamingo Beach Hotel in Mombasa before flying out on July 21.
"We are aware of what awaits us in Tokyo but we are well prepared. We shall meet the world's best players but this won't stop us from giving our best," said Makokha in an interview at the team's training base.
Tough draw
"We are the reigning Africa women beach volleyball queens and we need to prove this in Tokyo. We are confident we will perform well," she said.
Kenya have been grouped in pool D together with Brazil duo of Ana Patricia/Rebecca, USA's Clases/Sponcil and Latvia's team of Kravcenoka/Graudina.
Coach Sammy Mulinge regretted that he will travel with only two players instead of four.
"We wanted to have the four players in the team but only two are mandated to play at the tournament. We cannot assure Kenyans that we might not bring a medal home but we will come back with our heads held high," Mulinge said, adding that the team's appearance will also expose the players to international standards.
"As underdogs at the games, it will be a major achievement even by winning a set against our opponents."
Mulinge said he will work on the few mistakes identified during the continental championships to ensure he has a solid team before they fly to Tokyo.
At the same time, the Confederation of African Volleyball has congratulated Kenya for qualifying to represent the continent in Olympic Games.
In a letter addressed to Kenya's head of delegation Moses Mbuthia, the federation's president Bouchra Hajj said the Kenyans exhibited high standards of performance and deserved the victory.
"Kenya's qualification to Olympic Games was due to the team's resilience and teamwork," Hajj said.