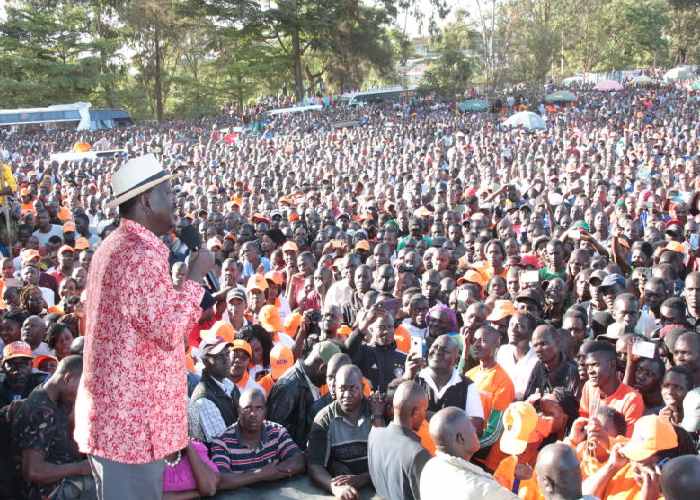 An Orange Democratic Movement has claimed Raila Odinga is under pressure from Kenyans to run for the presidency in the 2022 General Election.
Speaking on Thursday, July 8 on Citizen TV, Alego-Usonga MP Samuel Atandi said Kenyans have been putting Odinga under pressure to run based on his track record in the fight against corruption and his history as a democrat.
"They are telling him if he does not run, the country's resources will be looted and there will be no country."
The lawmaker dismissed reports in the media that Odinga had declared his candidature for the 2022 presidential race.
Atandi wondered why those eyeing the presidential seat are so interested in Odinga's candidature to the extent of pushing unfounded reports in the media.
He said Odinga never wanted to take another stab at the presidency but with mounting pressure, he might be in the race.
"He said from the word go that he was never interested in the seat, but Kenyans have put pressure on him to run," said Atandi.
He told Raila not to abandon Kenyans at their hour of need and go for the top seat, to block those he described as tainted leaders who have positioned themselves as candidates.
"The former Prime Minister cannot leave the country in the hands of these people preaching politics of handouts."
Atandi said the 15-point blueprint unveiled by Odinga on Wednesday was not an indication that he is a 2022 presidential candidate.
War on graft
He challenged Deputy President William Ruto and his allies implicated in various scandals to first clear their names before talking about corruption.
"Where do they get the moral authority to talk about graft when quite a number are facing charges in court over graft? It is immoral," he said.
He accused the DP and his allies of crying in the media that the government was targeting them in the war against corruption none of those implicated in graft has been acquitted.
Let them show Kenyans any leader from their camp who has been acquitted of graft in the last three months," he said. 
There has been a back and forth between Ruto and Odinga camp over the war on corruption over the last week following Odinga's remarks during his Coast tour he will lock up corrupt politicians should he become President.
He claimed senior politicians in the country have been stealing billions of shillings that they then donate to churches, women/youth groups for political mileage.
"They are hyenas," claimed Raila.
"You see them come here in sheep's clothing and claim they will fundraise for women and youth groups. That is stolen money."
Ruto hit back on Sunday accusing the ODM leader of shouting about the fight against corruption while at the same time running cartels that rob Kenyans of their resources through Covid-19 billionaires.
"When they were in government, they stole from young people, and while in the opposition they still steal from Kenyans through cartels as they lecture us on the war against corruption," said the DP.