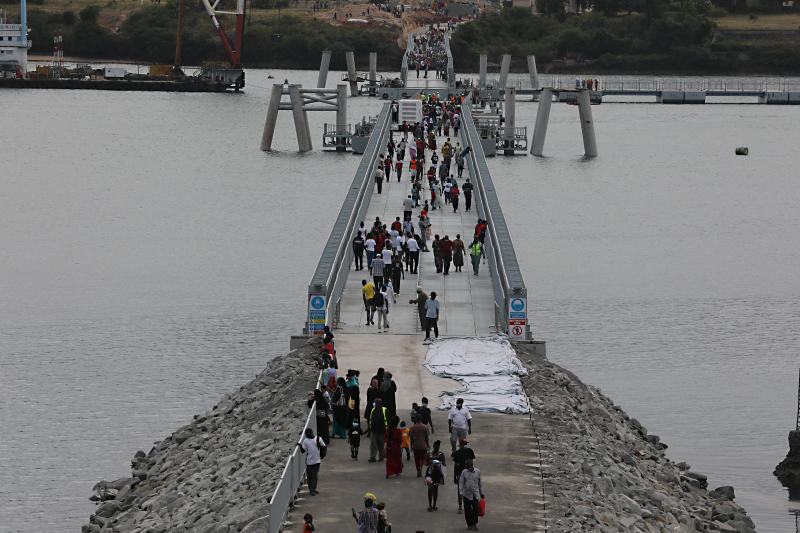 The Likoni pedestrian footbridge at Liwatoni in Mombasa has slowed the spread of Covid-19 in the area, the government has said.
Mombasa County Commissioner Gilbert Kitiyo said yesterday the bridge was being used by at least 200,000 people daily since March this year and as a result, the infections had dropped.
"Although residents tried to resist using the bridge, it has become a game-changer as the number of people who stood close to each other as they waited for the ferries at Likoni has reduced," said Kitiyo, who co-chairs the county Coronavirus Emergency Response committee.
Quoting statistics from Kenya Ferry Service and Kenya Ports Authority, Kitiyo said more than 100,000 people use the bridge in the morning and a similar number in the evening. Initially up to 350,000 people were using the ferries daily. Kitiyo spoke after meeting a delegation from Kenya Broadcasting Corporation (KBC) and Kenya Film Classification Board (KFCB) seeking collaboration to fight inciters ahead of the electioneering period.
KFCB chief executive Ezekiel Mutua and KBC director Charles Mulila said they will fight those using social media to propagate hatred.
Monitor water pumps remotely via your phone
Tracking and monitoring motor vehicles is not new to Kenyans. Competition to install affordable tracking devices is fierce but essential for fleet managers who receive reports online and track vehicles from the comfort of their desk.