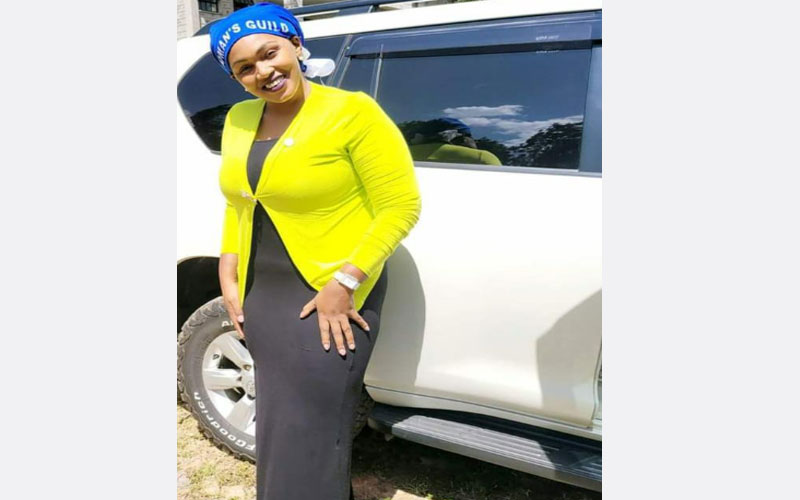 Karen DCI officer Anne Waiganjo succumbed to deep vein thrombosis, a postmortem conducted on Thursday, July 7 has revealed.
Dr. Johansen Oduor, who conducted the autopsy at the Kenyatta University Funeral Home, said Waiganjo had a blood clot in her left leg, which affected her heart functions.
The postmortem was witnessed by family, homicide detectives, among others.
"She had deep vein thrombosis, which led to pulmonary embolism; a clot in the pulmonary artery," Dr. Oduor, who is the chief government pathologist, said.
In a report filed at the Capitol Hill Station, Waiganjo collapsed on Saturday, July 3 at Baita Restaurant in Upperhill, where she had attended a farewell party organised for outgoing Makadara DCI officer Henry Kiambati.
She was taken to the Nairobi Hospital, where she was pronounced dead on arrival.
Lang'ata Sub-County Criminal Investigations Officer Abdirashid Yakub said Waiganjo collapsed at 5:30pm Saturday.
According to her colleagues, who were present at Kiambati's farewell party, Waiganjo had complained of chest pains shortly before collapsing.
The deceased was the younger sister of Joshua Waiganjo, who was arrested in January 2013 after allegedly posing as an assistant commissioner of police for five years. The courts, however, acquitted him.
About deep vein thrombosis
Deep vein thrombosis (DVT) occurs when a blood clot (thrombus) forms in one or more of the deep veins in your body, usually in your legs, mayoclinic.org says.
Deep vein thrombosis can cause leg pain or swelling but also can occur with no symptoms.
You can get DVT if you have certain medical conditions that affect how your blood clots. A blood clot in your legs can also happen if you don't move for a long time, such as after you have surgery or an accident, when you're travelling a long distance, or when you're on bed rest.
Deep vein thrombosis can be very serious because blood clots in your veins can break loose, travel through your bloodstream and get stuck in your lungs, blocking blood flow (pulmonary embolism). However, pulmonary embolism can occur with no evidence of DVT.
When DVT and pulmonary embolism occur together, it's called venous thromboembolism (VTE).
Many things can increase your risk of developing DVT. The more risk factors you have, the greater your risk of DVT. Risk factors for DVT include: age (people above 60 years have higher chances of developing DVT), injury or surgery, pregnancy, obesity, smoking, family history, heart failure, among others.
Pulmonary embolism (PE), which killed Waiganjo, is a potentially life-threatening complication associated with DVT. It occurs when a blood vessel in your lung becomes blocked by a blood clot (thrombus) that travels to your lung from another part of your body, usually your leg.
It is important to get immediate medical help if you have signs and symptoms of PE. Sudden shortness of breath, chest pain while inhaling or coughing, rapid breathing, rapid pulse, feeling faint or fainting, and coughing up blood may occur with a PE.
Monitor water pumps remotely via your phone
Tracking and monitoring motor vehicles is not new to Kenyans. Competition to install affordable tracking devices is fierce but essential for fleet managers who receive reports online and track vehicles from the comfort of their desk.