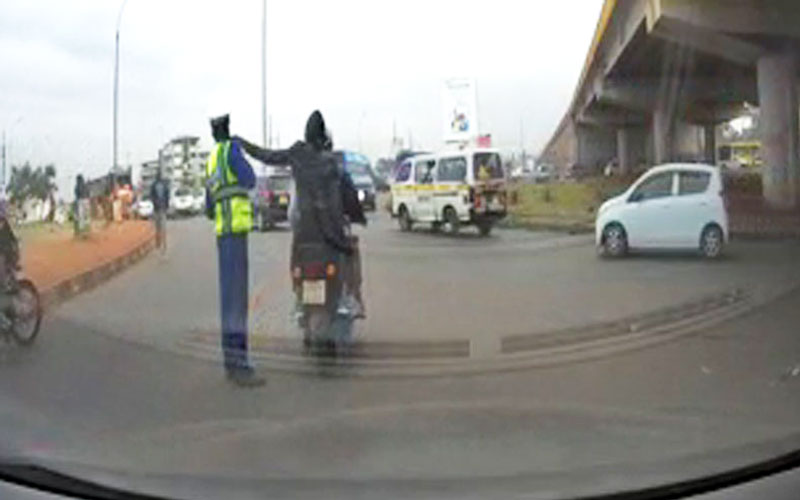 In what has been dubbed – on social media – as one of the most daring stunts Nairobi robbers have unleashed in the recent past, a police officer controlling traffic at the Roysambu roundabout on Thika Road in Nairobi, lost his phone to criminals aboard a motorcycle in a split second incident.
The brazen theft was recorded on a motorist's dashboard camera a few minutes past 5pm on Tuesday, July 6.
The footage shows three people aboard a motorbike approaching the roundabout from Thika side. Upon reaching where the police officer was – near the diversion towards Kasarani –  one of the two pillion passengers stretched his hand out and grabbed the phone from the traffic police officer's right ear. All that happened in a thunderbolt.
Shocked, the officer attempted to run after the robbers, but gave up on realising they had significantly widened the distance.
Appearing confused, the cop went to a nearby boda boda rider, who was watching the happenings quietly, and engaged him in a brief talk.
The video ends by showing the officer controlling traffic, in what some online users termed as the "swift acceptance of what had happened".
Several social media users condemned the incident, wondering what the criminals would do to civilians who have no security training or protective equipment like police officers.
The Standard reached Kasarani OCPD Peter Mwanzo for a comment in regard to the incident.
"I'm seeking to establish which officer lost his phone to the robbers. The officer I initially suspected to be the victim has denied being the one. So, I'm currently heading to the said-scene, and will be in a position to give more information later," Mwanzo said, adding: "The reason I'm finding it difficult to establish the identity of the victim is because none of my juniors reported the incident to me."
Nairobi regional police boss Augustine Nthumbi told The Standard he had seen the video circulating on social media, but was yet to receive a report from Kasarani about the robbery.
"I'm seeking more information about the incident," he said, adding: "However, I'd want to assure you that it won't take long for the robbers to be arrested. When such incidents occur, you'd hear we've arrested the suspects two or three days later."
Nthumbi urged city residents, who claim "they are on their own, when it comes to safety assurance", to be vigilant while walking in the central business district, even as police strive to ensure law and order is maintained.
"Even as police try everything possible to ensure your safety is guaranteed, you, as a civilian, also have a role to play. We call this approach 'crime prevention through environmental design', where your role is to ensure you are not exposing yourself to criminals, or giving criminals an easier access to your property," he said.
"For instance, if you know there are chances a thug would snatch your phone while text-walking in Nairobi's central business district, then you can prevent the theft from happening by storing your phone in the pocket or a safer place like the bag. We're trying everything possible to secure Nairobi, but there can't be a policeman assigned to guard every citizen. Let's be careful, even as police try their best to provide security," added Nthumbi.
The city police boss said their efforts to minimise brazen robberies in the commercial hub have not been futile, only that "they have not been vocal about their gains".
"Cases of muggings have reduced in Nairobi. You can take a day or two before hearing of a mugging case. That shows that we are working, though silently," he said.
Early July, the National Police Service said it would deploy more patrol officers in Nairobi following a public outcry over a spike in muggings and thefts.
Nairobi police boss Nthumbi said the officers will include GSU, regular police and plainclothes officers.
"Do not be scared if you come across many officers in uniform and plain clothes. They are deployed to protect you from muggers, robbers and other petty criminals that you have been complaining about on social media," he said.
Kenyans on social media, who fell victim to muggers in the CBD, urged other residents to avoid locations in the city marked as notorious hideouts for gangs robbing pedestrians and motorists.
The gang is reported to be working in cahoots with street children who attack uncooperative targets.
The Directorate of Criminal Investigations (DCI) in late June asked Nairobi residents to report cases of muggings and robberies instead of taking to social media only to lament.
"Many are scenarios when suspected muggers go scot free even after they have been arrested along various streets and walks within the CBD, as the few who report at the station fail to pursue their cases or never turn up for hearings," the DCI said on Twitter.
The daily robberies occur despite existence of Sh14 billion surveillance cameras mounted in different locations in Nairobi.
Monitor water pumps remotely via your phone
Tracking and monitoring motor vehicles is not new to Kenyans. Competition to install affordable tracking devices is fierce but essential for fleet managers who receive reports online and track vehicles from the comfort of their desk.