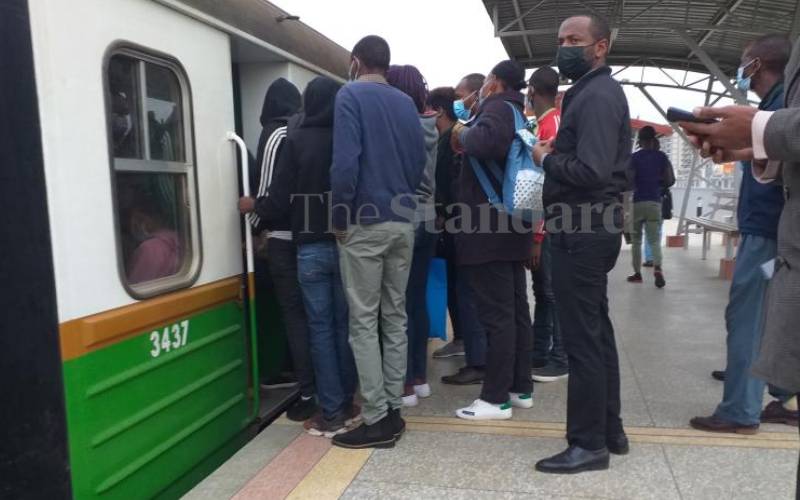 A spot check by The Standard has established that coronavirus-prevention restrictions for people who travel by rail fair lower than as stipulated by the Ministry of Health.
Commuters plying Ruiru, Dandora, Kahawa, Kikuyu and Embakasi now content with congestion and dry taps, unlike before when passengers were asked to keep social distance and directed to wash their hands before boarding.
Many avoid hand washing spots and proceed directly to the security check area, then on to waiting cashiers to secure tickets that retail between Sh40-Sh150, before being herded onto trains.
Aboard, social distancing in coaches is non-existent, even as the government projects that July will record an increase of Covid-19 cases.
A wagon that is supposed to host 40 passengers crams over 100. A seat meant for one, accommodates two, while a third passenger squeezes into the space between commuter seats.
Speaking to The Standard, however, Kenya Railways Managing Director Phillip Mainga said the corporation is compliant with Covid-19 containment protocols.
"We have an arrangement that is compliant, in fact, we are watching and dealing with every bit of the protocol at the same time trying to balance the issues facing Kenyans during these tough times going by our charges," said Mainga.
Mainga noted that the rail firm has maintained its economy passenger tariff of Sh1,000 from Nairobi to Mombasa compared to a Sh3,000 charge by buses.
"That way, we cushion Kenyans so that they can move around and provide for their families; all while ensuring that the passengers comply with the rules by putting on face masks and wash hands," added Mainga.
A message echoed by Heath Cabinet Secretary Mutahi Kagwe who read the riot act to Kenyans for their alleged indiscipline.
Kagwe warned of rising infections should they continue to disregard set out measures to prevent Covid-19 spread.
"We don't have enough police officers to ensure that such things are implemented. In other countries, it is about the discipline of the individuals. Discipline will decide how many people will die or survive in such pandemics, and that is a fact. Why board when they [trains] are full?" posed Kagwe.
Monitor water pumps remotely via your phone
Tracking and monitoring motor vehicles is not new to Kenyans. Competition to install affordable tracking devices is fierce but essential for fleet managers who receive reports online and track vehicles from the comfort of their desk.