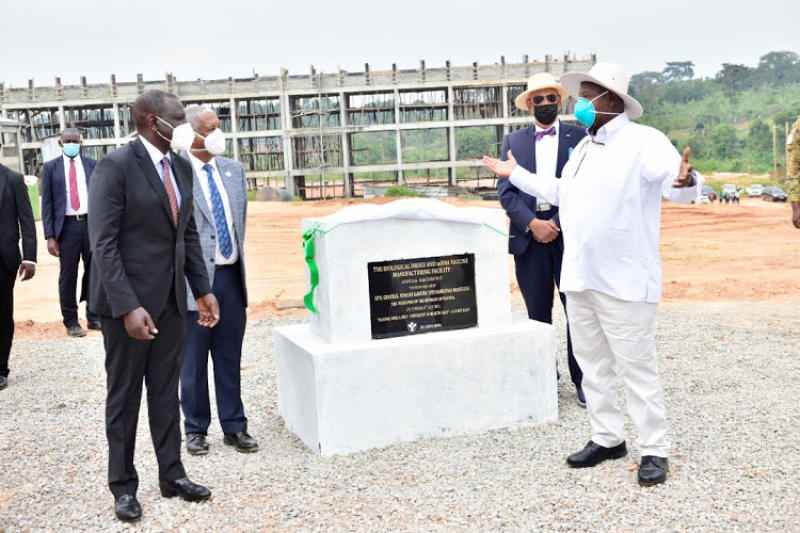 Deputy President William Ruto yesterday spent the second day of his private trip to Uganda at President Yoweri Museveni's home district of Mbarara.
Ruto, with his delegation, visited the National Animal Genetic Resources Centre and Data Bank and was hosted by the Uganda's Agriculture Minister Frank Tumwebaze.
"Happy to receive HE @WilliamsRuto with his delegation at Nshaara government ranch, which touches the beautiful mini lakes of Kakyera and Mburo," tweeted Tumwebaze.
On Tuesday, Ruto was the chief guest at the laying of the foundation stone for a Biological Drugs and mRNA vaccine manufacturing facility at Matuga-Wakiso District at the invitation of President Museveni.
In his address, Ruto said Kenya was keen on building partnerships with other African countries in a bid to steer the continent towards the restructuring of its market to focus more on upstream production.
"This new commitment to buying locally manufactured vaccine doses at large-scale will ease African countries' import bill, enhance their export earnings and sustainably boost the ordinary people's health status," Ruto stated.
Ruto has been a constant visitor to Uganda. In 2015, he actively campaigned for Museveni in the districts of Kapchorua and Bukwo in the East of Uganda.
During the campaigns, Uganda's opposition questioned his endless trips including the campaigns, accusing him of meddling in the politics of a sovereign country.
In December 2019, Ruto was hosted by Museveni at his Nakasero State House but it was not clear what they discussed in the three-hour meeting where the DP was accompanied by his political lieutenants.
Later in the day, Ruto presided over the groundbreaking ceremony of the William Ruto Institute of African studies building at Makerere University.
This is not the first time that Ruto has gone out of the country to tend to his private business. In January 2020, Ruto flew to South Sudan, reportedly on private business, to visit a chicken farm in Khartoum.