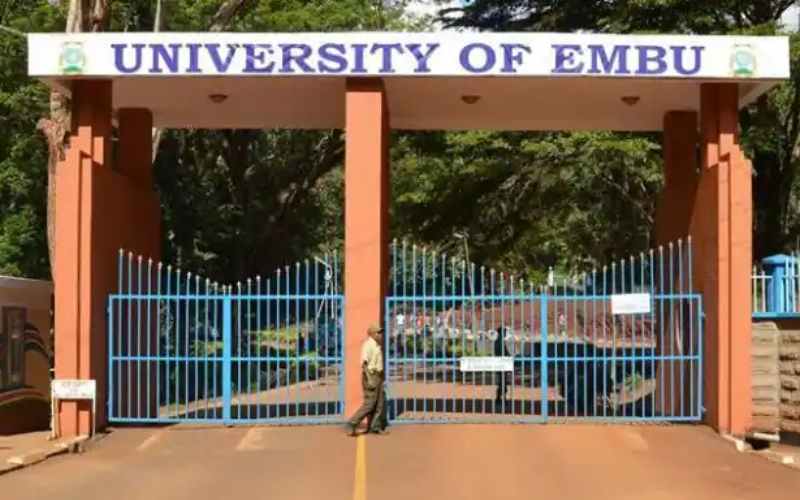 Under the leadership of Chancellor Prof Musili Wambua, Council chairman Dr Ken Okong'o and Vice-Chancellor Prof Daniel Njiru, the university scored 2.1250 to emerge tops in the 2019/2020 financial year.
The report by the Ministry of Public Service, Youth and Gender Affairs shows that five out of the top ten state-owned corporations are public universities.
University of Embu's neighbour, Tharaka University College scooped the second position while TVET Curriculum Development, Assessment and certification Council came third, and University Nairobi fourth.
National Irrigation Authority (NIA) capped the list of the top performers.
"The best performing category was Public Universities while the worst was Commercial and Manufacturing. It is important to note that the Public Universities Functional Category was also the best performing in the previous financial year," part of the report reads.
In the report, CS Margaret Kobia attributed the general average performance to the effects of the ongoing Covid-19 pandemic that disrupted operations in a number of state corporations.
"Consequently, the imposing of budget cuts to mitigate the pandemic and the introduction of austerity measures further affected the achievement of the set performance targets," Kobia said.
Others in the top ten included Chuka University, Kenya Industrial Estate, South-Eastern Kenya University, Capital Markets Authority and the Media Council of Kenya in that order.
Four of the top universities- University of Embu, Tharaka University, Chuka and South-Eastern are former constituent colleges of the older universities.
Despite President Uhuru transferring its functions from the Ministry of Agriculture to defence, the Kenya Meat Commission, among others, performed poorly.
Further, four state corporations continue to perform poorly even after being in the bottom ten in the previous financial year.
These are East African Portland Cement Plc, South Nyanza Sugar Company Limited, Tana Water Works Development Agency and Chemelil Sugar Company.
"The sugar companies attributed their dismal performance to inadequate supply of sugar for milling and low factory capacity utilization," the report read in part.
From the data in the report, none of the Ministries together with the State House and the DP and AG's office achieved their annual targets after a marginal decline of about 0.1 per cent.
"Only 56 out of the 223 State Corporations, representing only 25.2% achieved their annual performance targets while 167, translating to 74.8% did not achieve their agreed performance targets.," Kobia said.
National Treasury topped the category as Ministry of Tourism and Wildlife, Sports, ICT and Agriculture, Livestock and Fisheries scrambled for the tail in that order.
The report recommends the annual public release of state-owned institution's performance to promote healthy competition and improved service delivery.?
Monitor water pumps remotely via your phone
Tracking and monitoring motor vehicles is not new to Kenyans. Competition to install affordable tracking devices is fierce but essential for fleet managers who receive reports online and track vehicles from the comfort of their desk.