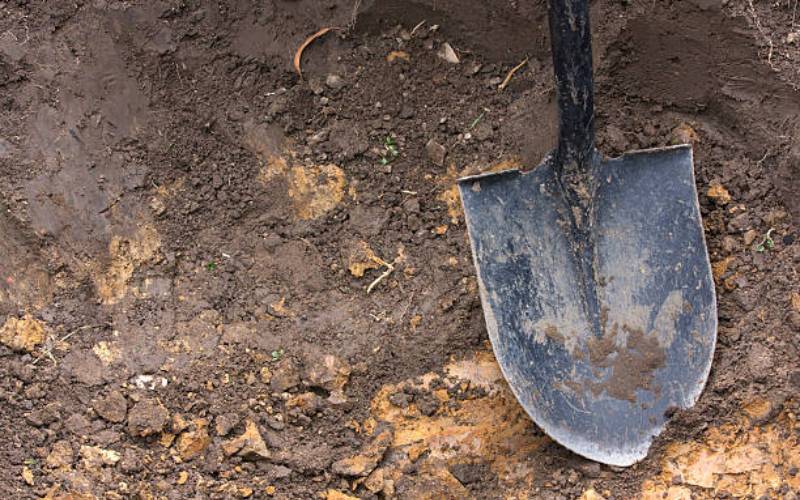 The founder and head of Christ of All People Church Bishop Eliud Nyongesa was laid to rest at a church compound amid opposition from one of his wives.
Attempts by Rosebella Wafula to stop the burial and cart away the casket hit a snag when police and church members blocked her.
Drama unfolded at the church's headquarters in Kiminini Trans-Nzoia when Rosebella and kin arrived from Bukembe in Bungoma County to pick the body but found some church members busy interring the body inside the compound.
Wails and calls from Rosebella and her children to stop the burial failed to bear fruits as members flushed out a written will by the deceased sanctioning his rest place at the church.
Police led by Kiminini OCS Suleiman Abdullah and assistant Chief Sam Khaemba restrained the family from interfering from the burial ceremony, advising the aggrieved party to seek legal intervention.
"For now allow the burial to go on as planned because there are relevant documents sanctioning the burial in the church premise and if you have issues seek legal redress if you want the body exhumed," Abdullah told Rosebella.
Another woman, believed to be the deceased wife, watched as the drama unfolded.
Rosebella protested that the deceased had abandoned her and the children after he founded the church.
"Despite abandoning the family, we need to rest his body at home. We will move to court to have the body exhumed," vowed Rosebella as officers ordered the family out of the church compound to avoid attracting a crowd.
According to a church member, Justus Wekesa, Bishop Nyongesa died of Covid-19 related complications.
Wekesa told The Standard that to the bishop had wished to be buried in the compound and his grave remain a symbol of the church.
"He founded the church 15 years ago. We have 33 branches in Kenya and Uganda, and he wished to be buried in the church's headquarters compound to remain as a symbol of the church," said Wekesa.
Some followers interviewed described bishop Nyongesa as a prophet and spiritual healer.
"We referred to him as baba. He was a prophet and had healed many people through prayers," said Derrick Wafula.
Many claimed that the deceased helped many childless couples that were able to get children through his prayers. 
Monitor water pumps remotely via your phone
Tracking and monitoring motor vehicles is not new to Kenyans. Competition to install affordable tracking devices is fierce but essential for fleet managers who receive reports online and track vehicles from the comfort of their desk.