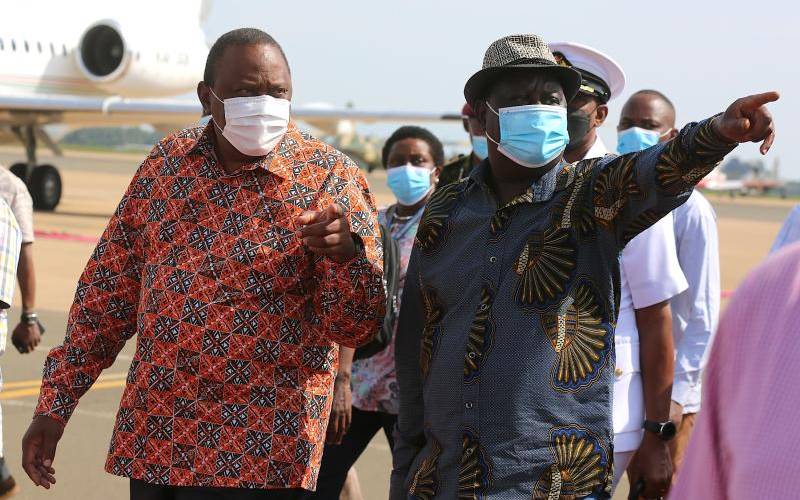 Kenya's two main political parties, Jubilee and ODM, need rejuvenation. They are either experiencing political hiccups or suffering from political constipation. Either possibility calls for serious self-reflection. Failure to do that would give distant parties opportunity to zoom past them.
The threat of another party outpacing the two becomes real when taking into account the freshly minted 'UDA' with its 'hustler' narrative that has become a movement. Others waiting in the distant political wings include the ANC, Wiper, Chap Chap, The Service Party and Ford-Kenya.
They would like to take advantage of the likely disintegration of the big ones. The leadership in both parties occasionally admit something is wrong, even suggest possible remedies, and then turn attention elsewhere until a probable next crisis.
During the funeral of Washington Jakoyo Midiwo in Gem, Siaya, Raila Amolo Odinga conceded all was not well in ODM. As Raila talked of reforming ODM to increase nomination democracy, Jubilee was going through internal reassessment due to repeated embarrassments at the polls.
Jubilee needed self-reassessment in order to counter perceived negativity that had led to unexpected defeats in what it considered its extended political 'bedrooms'. 
Although the turnout in those by-elections was low, those who voted humiliated Jubilee bigwigs back to the drawing board. While entering into self-recrimination, the strategists realised they had become complacent. They noticed their grassroot system lacked grass that had roots and that their political bedroom doors were open for anyone to enter.
There followed frantic efforts to do two things. First, close the bedroom doors in order to avoid additional embarrassment of people simply walking in. Second, was to plant deep-rooted grass, throughout the country by tapping into influential locals. The point in the two moves was to make Jubilee constantly visible that it would not be caught napping again.
Jubilee's two-pronged strategy to protect 'bedrooms' and expand areas of planted deep-rooted 'grass' appeared to receive a boost from different quarters; the cultural quarters. Given that some officials in ODM, in Jubilee, and in the emerging UDA seemed to emit political negativity, some strategists offered a peculiar alternative to act as sentry to the bedroom doors and to protect expanding grassroots.
Dressed in cultural attire and carrying symbolic spear and shield, National Assembly Speaker Justin Muturi quietly spreads his presence in the Mountain and the arid North Eastern. He has no known 'enemies', despite the grumblings of some would-be Mountain leaders.
Muturi is a presidential candidate in the same way as ODM's Raila Odinga and William Ruto's UDA. Over the weekend he declared his interest in the top seat. Avoiding political braggadocio that characterised ODM and Jubilee power brokers, Muturi cultivates an image of an alternative to everyone else that would probably rejuvenate the 'Party.' No wonder he is the talk of town.