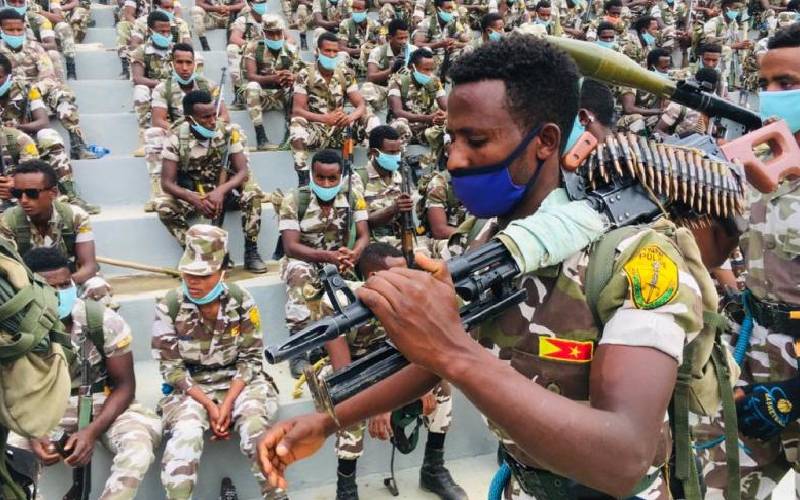 The United Nations Security Council has asked member states to demand and call for a ceasefire in Ethiopia.
The Council said although Ethiopia had on June 28, 2021, announced a ceasefire in the Tigray region, the region's leadership had not agreed to the calls.
In a public meeting held on July 2, 2021, Under-Secretary-General Rosemary Di Carlo said by Tigray's leadership refusing to agree to a ceasefire, there is a potential of more confrontation.
This was after six private discussions since fighting broke out in November between government forces, backed by troops from neighboring Eritrea, and TPLF fighters with Tigray's former ruling party.
Di Carlo said since the Federal Government of Ethiopia called for a ceasefire and withdrew its troops from Mekelle town, there has been significant calm.
"As we convene here, there is calm in the town of Mekelle, former leaders of the region have returned even though there is no power or internet. Mr President, infrastructure is however badly destroyed and humanitarian aid has been affected with the situation pausing a great potential for more confrontations," Di Carlo said.
She said there is a great need for the Tigray Defence Forces to agree and endorse the calls to a ceasefire.
"The UN is extending its support to Ethiopia but there is an urgent need for us to reach urgently those in dire need. Food and security has worsened and therefore all parties must ensure safe passage of humanitarian workers," she said.
The Ethiopian government declared a unilateral ceasefire on Monday but the TPLF dismissed it as a joke.
Di Carlo said a ceasefire is a starting point for the political process that will bring an end to all political grievances that have rocked the country.
"Even as we call for a ceasefire, there must be an all-inclusive dialogue process to address all the structural gaps," she said.
She said so far 1.7 million people have been displaced with 60,00 refugees crossing to Sudan.
Di Carlo said the Council supports calls for joint investigations into human right abuses committed and bringing perpetrators to book.
Kenya in its submissions said it is pained by the suffering that has been experienced by Ethiopians because each life matters and is sacrosanct.
"We condemn without reservation the targeting of unarmed civilians. In doing so, we call for all parties with the means to cause harm to cease any attacks or threats to unarmed civilians," Amb Martin Kimani Kenya's Permanent Representative said.
"We demand that they respect international law including humanitarian principles and the moral codes that are at the core of Africa's cultures and religions," he said.
Kimani said in support of the democratic aspirations of the Ethiopian people, the international community and the security council should give the country space to undertake its most recent elections.
 "We hope that the election becomes the foundation of a robust national conversation on peace, cohesion, development, and the celebration of diversity and pluralism," Kimani said. 
The ambassador said although the situation in Tigray remains of concern, there are clear opportunities for peace to emerge.
"Behind closed doors, we have urged this Council to take careful and responsible actions that will encourage humanitarian outreach to the suffering people and not to imperil the situation in Tigray. We again reiterate this strong and sincere call," he said.
Kenya said there must be an immediate withdrawal of any and all non-Ethiopian forces from Tigray and the standing down of all militias from neighboring federal states.
"We insist on a ceasefire by all parties because we know, from experience, that doing so will allow the deployment of the tools available in Africa's peace and security architecture to help Ethiopia be at peace with itself," Kimani said. 
Monitor water pumps remotely via your phone
Tracking and monitoring motor vehicles is not new to Kenyans. Competition to install affordable tracking devices is fierce but essential for fleet managers who receive reports online and track vehicles from the comfort of their desk.