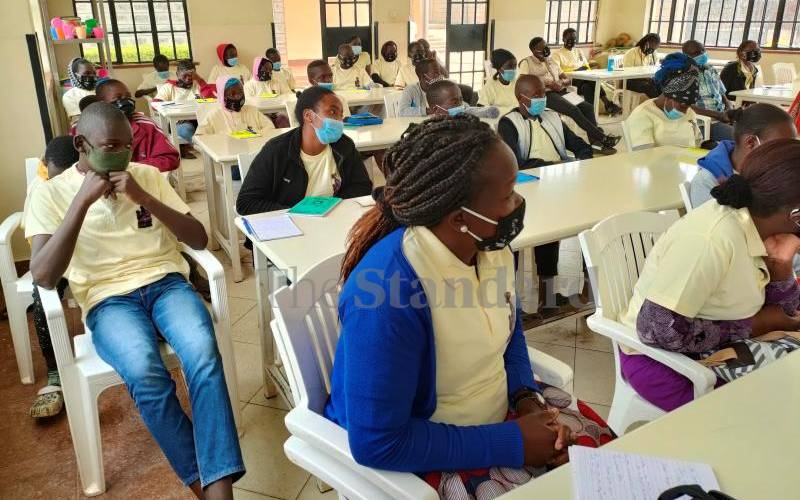 Rael Atieno got pregnant at 14. She later gave birth to a baby boy. At that time, Atieno who lived in Kianda, one of the slums of Kibra blames it to lack of knowledge on how to handle peer pressure. She shares, several of her friends had got babies at an early age. And, moving around cuddling their babies, looked fun. They seemed to enjoy it.
"It looked fashionable for any young girl to get baby in our area. But when l got pregnant, l severally thought of abortion, but friends cheered me on, urging me to carry the pregnancy to the end, which l did," narrates Atieno who was in form one.
She started menial work to fend for her baby. She says, "Thank God my mother was very supportive and helped me care for the baby."
But Atieno was lucky. Around that time, through a friend, she learned of Unique Ladies, an organisation that supported vulnerable youths, especially ladies in the slums with life skills, education and economic empowerment.
She recalls, "As young mother when l joined, they advised me to go back to school. At first, l was reluctant because my parents couldn't afford to pay some fees and other basic items.  However, l agreed after they promised to intervene and pay for some basic required items."
And with that, she went back to class. Right now she is in Form Four, promising to become medical officer.
And just like her, tens of girls have benefitted from the organization. Speaking during the launch of seven months of training, the girls promised to conquer their dreams.
Christine Abengi, a co-founder of the Unique Ladies says they have persuaded and returned several young mothers back to school, and she is optimistic they will work hard for a better future.
Christine, who is also Counsellor explains for girls, it is fashionable to get pregnant. "Here, it is fashionable to get pregnant and have a baby. If you don't, it is like you're not doing justice to yourself," she says.
Despite some girls having good dreams, Christine explains some of their mothers, especially those working want them to remain and care for their homes.
"Education is not an issue to many of the parents in the slum. The majority of girls are nurtured and grow knowing their roles are in the houses," she explains.
Joseph Songa, Senior Assistant Chief in Kianda area says high levels of poverty have left youths vulnerable, especially girls.
"It forces them to make very bad choices that eventually ruin their future. Some join various crimes to make ends meet," he explained.
Songa confides such programs are very important, for they offer the youth with alternative help, convincing them to abandon bad behaviours.
He says, "Previously, l have witnessed such programs change the lives of beneficiaries." A beneficiary, Faith Adhiambo agrees youths have a lot of temptations in the slums.
"These empowerment or interventions help youths to redirect their dreams that had been veered off the path," she said.