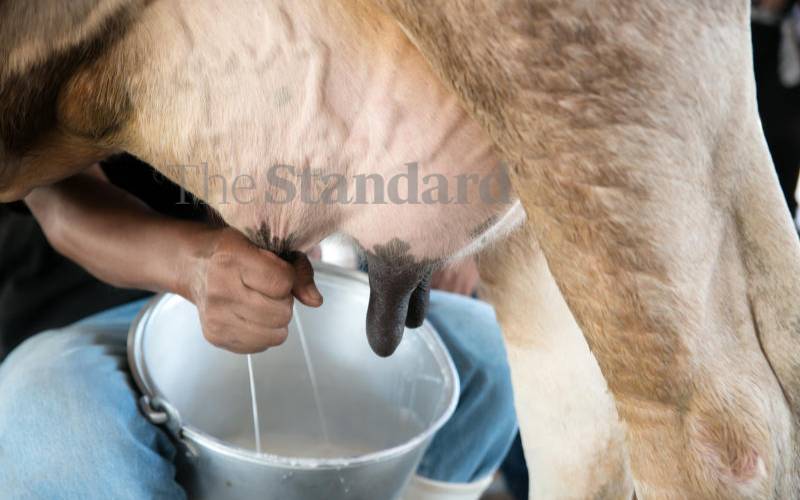 Erratic weather patterns and the high cost of livestock feeds have been blamed for the persistent reduction of milk supplies in most parts of the North Rift.
Dairy farmers' organisations that produce before delivery to processing firms said despite the good producer price of Sh36 per litre of milk, supplies have remained low over the past five months.
The government, in September last year, directed that the minimal farm gate price for milk is Sh33, which was received with enthusiasm by farmers who had suffered an unstable market, with prices dipping to as low as Sh20 a litre.
Kenya Dairy Farmers Federation (KDFF) and Lessos Livestock Breeders Network (Lelbren) noted yesterday that despite the good market price, the dry spell has dealt a blow to dairy farmers due to inadequate feeds for their livestock.
Stanley Ngombe, chairman of KDFF, a body that encompasses 27 dairy cooperative societies across the country and Joshua Bungei, the manager of Lelbren, a firm that bulks milk before supplying to New Kenya Cooperative Creameries, said the dairy societies have recorded low supplies.
They said a majority of farmers rely on free-range grazing of their dairy cows but the persistent dry spell has drastically reduced vegetation thus affecting milk production.
"Nandi Cooperative Creameries Union that receives supplies from various dairy cooperative societies in the region currently receives a paltry 17,000 litres of milk daily from the expected 50,000 litres that used to be received in the same period last year," said Ngombe.
The official said the harsh weather conditions were to blame for low productivity in the dairy sector.
"Following a stakeholders meeting with KDFF and the dairy board, the government directed that milk producer prices be set at Sh33 per litre from September last year. We urge the government to consider waiving levies on livestock feeds to make it more affordable to farmers to boost production," stated Ngombe.
On his part, Bungei said despite the efficiency in payment to farmers who supply milk to the processing plants, produce was still low due to inadequate feeds.
Lelbren, he said, currently receives an average of between 4,000 and 5,000 litres of milk daily, down from an average of 7,000 during the same period last year.
"Farmers still rely heavily on free-range grazing and have not embraced preservation of feeds for use in dry season," noted Bungei.