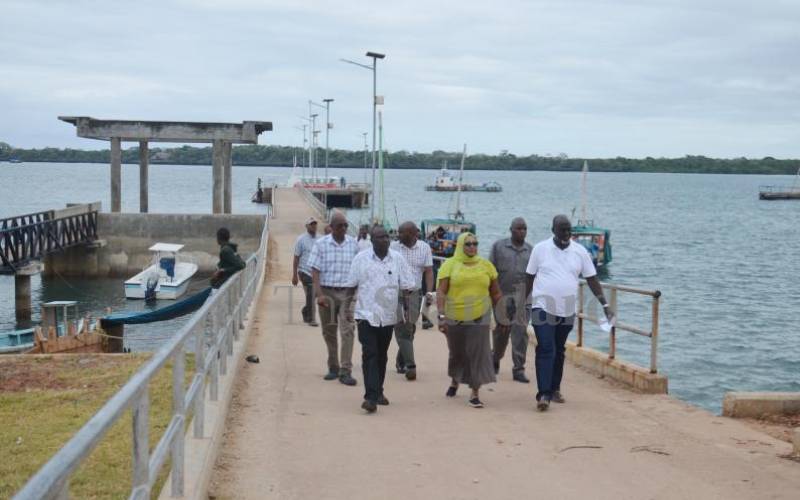 The remodelling of Shimoni Port in Kwale County into a fishing harbour has attracted 16 construction firms.
Kenya Ports Authority (KPA) announced that the construction of the Sh20 billion fishing port will start next month but declined to disclose the names of the companies that have tendered for the project.
According to KPA General Manager for Infrastructure Development Vincent Sidai, Phase 1 of the project will start next month.
Sidai, who represented KPA Acting Managing Director Rashid Salim during a public stakeholders' forum held on Wednesday in Shimoni, said all the mandatory requirements including feasibility studies and environmental impact assessments have been met in readiness for the project, which is estimated to be complete in 24 months. Apart from putting up the fishing port, Sidai told the meeting that KPA intends to put up a modern fish market where fishermen can sell their stocks.
"We are ready to put up a market here if you come up with alternative land or we can still refurbish the old market to ensure that you have an ideal place where you can engage in fish sales once the port is operational," Sidai said.
Coast Regional Coordinator John Elungata assured locals that the government was committed to timely completion of the project.
He encouraged residents to embrace the project, saying it would come with many and diverse business opportunities.
On his part, Lunga Lunga MP Khatib Mwashetani, where the project is domiciled, expressed satisfaction at the implementation efforts of the project, noting that it was encouraging to see the government had prioritised it with clear timelines.
He called on the government to consider providing modern fishing gear for the locals so that they can reap maximum benefits of commercialised fishing.
"We would like to see fishers getting kits to be able to venture into the deep seas to fish using modern gear," the MP said.
Kwale County Executive Committee member for Roads and Public Works Hemedi Mwabudzo, who stood in for Kwale Governor Salim Mvurya, said the county was fully in support of the project.
Mwabudzo said the county will continue working closely with KPA to ensure the project is completed on time.