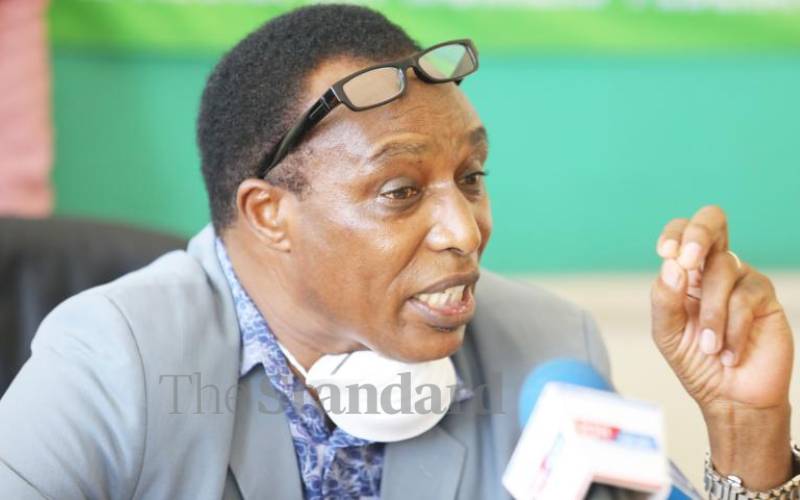 Long-serving Dock Workers Union (DWU) secretary-general Simon Sang' romped to victory for the fourth time in polls held on Friday night in Mombasa, Kisumu, Lamu and Kwale counties.
In his victory speech, Sang' who will serve for another five years promised a bruising battle against the port workers' overtime pay capped at 30 per cent by the Kenya Ports Authority (KPA).
He said top on his in-tray is to make sure that the overtime cap rule imposed on all KPA workers is scrapped saying employees must be paid for every minute worked. 
Sang' launched a scathing attack on KPA management moments after the Dockworkers Union Elections Board chairperson, Alice Tabu declared him the winner.
Sang garnered 1055 votes against his closest rival, Renson Juma Thoya's 864 votes. A tough-talking Thoya, who is also Mikindani MCA, is an ally of Mombasa Governor Hassan Joho.
Mr Mohamed Sharia, a fierce critic of Mr Sang since the previous union polls in 2016, lost the chairmanship to a new entrant Mohamed Juma Mwasera who got 543 votes.
Union's first woman Treasurer, Nana Mote entered into the history books for the giant workers union after scooping 1,108 votes after beating three other contestants. National treasurer Joseph Makero was not eligible to defend as he has attained retirement age.
Edwin Wasonga from Mombasa port's marine operations and Zulpha Musau from the container terminal were voted in as young workers' representatives.
Mwasera commended the union elections board for showing maturity and conducting the polls in a peaceful manner.
"I wish to salute the election board for the wonderful work they have done in ensuring a very peaceful and secure election. I also thank our fellow union members for coming out to vote in this very noble exercise. It is prudent to know that the core business of workers' union is first and foremost to defend their rights," he said.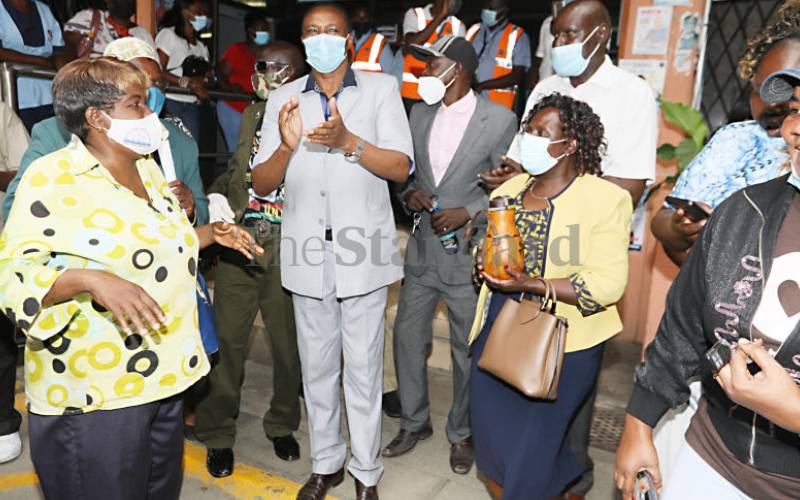 In his acceptance speech, Mr Sang who was first elected to head the union in 2006 said yesterday after members attain the 30 per cent of their basic monthly salary ceiling for the overtime, they will not extend work for free as ordered by KPA management or sign an agreement with the workers and pay for the extra hour served.
"I will call for immediate Joint Industrial Council (JIC) to resolve the issue of 30 per cent capping. On this issue, management and union must sign a memorandum to provide for two options.
"That upon attainment of the 30 per cent ceiling no worker shall be required to work even a single minute extension… This must happen immediately. For management to pay every single extra hour worked by an employee since the 30 per cent capping started the process of approval must be agreed and signed," Sang said.
The unionist also demanded that all unpaid overtime arrears must be paid for all the months the part payments were held.
Sang demanded that KPA settle the 19 months pending Collective Bargaining Agreement (CBA) for all the 4400 union members without fail.
In March this year, DWU successfully negotiated for a 10 per cent salary rise for members to be backdated to January last year when the CBA expired.
"I will ensure that we get paid the nineteen months' arrears by the first week of July 2021," he pledged.
Sang said he will push for promotions to be dispensed with following the elections held on June 24 this year.
"All pending promotions must be dispensed with within three weeks upon registration of the union officials with the registrar of trade unions in the next seven days and that all those who have been working on higher grades must be promoted with effect from the time they were first appointed," he demanded.
Sang also pledged to change the union constitution to give him the teeth to met out tough and immediate disciplinary action of officials bent to cause turbulence in the outfit.
"For the sake of stability, we have a responsibility of doing some amendment of the union constitution to ensure that there is instant disciplinary action on any official or member who is likely to sink the union," he noted.
He said he will commit himself in the next five years to protecting pensioners from negative government administrative arrangements and also guard against privatisation of the privatisation of ports promising to seek dialogue with President Uhuru Kenyatta.
"We shall also make workers distinguish between having a competitive port through modernisation and issue of illegal privatisation," said Sang who has been at loggerheads with the government and some of his union officials over the alleged plan to privatize the Sh30 billion terminal two of Mombasa port.