Sebastien Ogier: I'm here to win the Safari Rally, bag the WRC title and retire next season : The standard Sports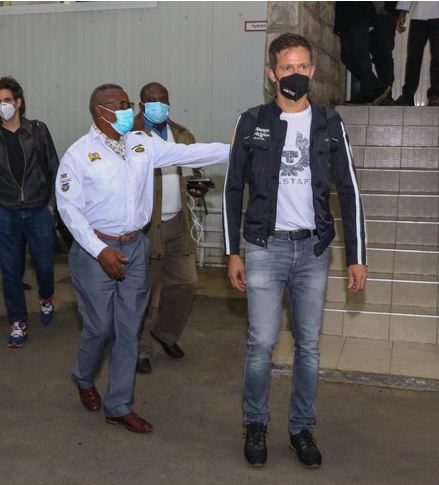 Reigning World Rally Champion (WRC) Sébastien Ogier has planned to win the Safari Rally and ultimately bag the WRC series title before he exits the scene next season.
He revealed this upon his arrival on a chartered plane at the Jomo Kenyatta International Airport in Nairobi on Sunday night.
"There will be no change to my plans on whatever happens this season. I'm going to do my best to win the title this year, but next year you won't see me in a full championship," he said.
The current WRC series leader is very excited to be in Kenya for the Safari Rally which he said will give him a whole new experience.
The French speed merchant will be navigated by compatriot Julien Ingrassia in the Safari.
They will compete under the global banner of the Toyota World Rally Team in a Yaris car.
"I've never been to Kenya, I've never been to Africa, so for me, there are lots of things to be learnt," he said.
Despite the long journey to Kenya, Ogier looked fit and full of energy ahead of the Safari Rally recce which was scheduled for Monday in Naivasha.
He admitted the expected tough Safari Rally will be a different challenge from what he is used to in Europe.
"The roads here are different from what we are familiar with in Europe.
"This competition will be so different for us, the speed will be less than what we are used to in Europe because of the roads," he said.
Because of what he termed as narrow roads, Ogier said he is going to keep his eyes open to watch out for every hazard that he may come across his way during the Safari Rally.
Asked if he's out to beat the Sebastien Loeb record of nine titles, the 38-year old world beater said he is not interested in numbers.
"Numbers makes nice statistics, makes journalists happy, makes fans happy but at the end of the day I had made my plans, which is to retire next year, a long time ago."
Apart from Ogier, other drivers who will compete at the Safari in a Yaris GR are Elfyin Evans of Wales to be navigated by Scott Martin of United Kingdom and Kalle Rovanpera of Finland whose pace notes will be called out by compatriot Jonne Halttunen.