Gusii old guard not prepared to step aside for up-and-coming politicians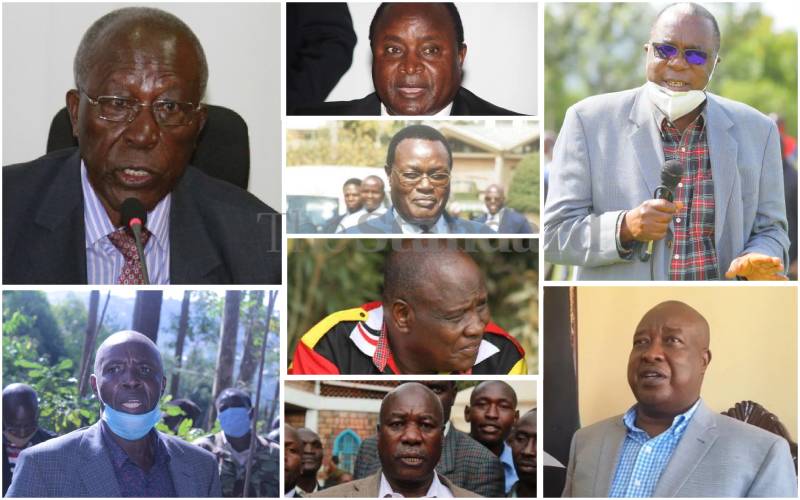 The old guard who have long reigned supreme in Kisii and Nyamira politics could be given a run for their money in next year's General Election by young politician keen to take over the reins of power.
Gusii voters have a tendency of putting into office some of the oldest leaders in the country with an average age of a little over 50 years. In the 2017 elections, only the youthful South Mugirango MP Silvanus Osoro managed to win a parliamentary seat.
But the question is whether those who seek to dethrone them have the money to fund grueling campaigns to woo the electorate.
Born in 1945, Kisii County Assembly Speaker David Kombo is perhaps one of the oldest politicians in the region. He was an MP and Assistant Minister for Commerce when he represented the people of South Mugirango between 1988 and 1992.
Kitutu Chache MP Jimmy Angwenyi, 75, is the longest-serving MP in the National Assembly, while Nyaribari Masaba MP Ezekiel Machogu, 65, is also amongst the oldest.
In 1992, Angwenyi was eyeing the Kitutu Chache constituency seat. At the time, the youngest MP in Parliament, Igembe South's John Paul Mwirigi, was not yet born.
Twenty-nine years later, Angwenyi is fondly referred to as 'Father of the House' by his colleagues in the National Assembly. If his name is on the ballot next year, he would be hoping to secure a record sixth term in Parliament.
Kisii Senator Sam Ongeri and Roads Chief Administrative Secretary Christopher Obure are among the seasoned politicians seeking to succeed Governor James Ongwae, who is aged 69.
Prof Ongeri, 83, has said he is still fit as a fiddle and wants to continue serving the community. According to the former UN-Habitat envoy, some elective positions need wisdom and experience.
"My years of experience and a clean development record give me hope that I still have energy to serve my people at any capacity," he said.
Debate ideas
Ongeri, who was first elected to Parliament in 1988 to represent the people of Nyaribari, said people should be debating ideas and not age. "My age is not an issue. What I bring to the people is what matters."
Obure, 77, trailed Ongwae in the 2017 election. In his latest remarks, he said: "Many have been asking if I will still vie for the governorship. Rest assured I will not disappoint you."
Nyaribari Masaba MP Ezekiel Machogu, 65, a former District Commissioner, has also said he has what it takes to succeed Ongwae. "I have experience both as a career civil servant and now as a politician. I believe I have the best foundation in the management of CDF."
In the recent, Bonchari by-election, Jubilee Party candidate Zebedeo Opore, 74, nearly won the seat, coming second to ODM's Pavel Oimeke.
In Nyamira, Governor Amos Nyaribo is in his early 60s. He replaced the late John Nyagarama who died last December at the age of 74.
Former West Mugirango MP James Gesami, whose name was forwarded to the County Assembly for vetting as deputy governor, is 63 years old.
Walter Nyambati, the former Kitutu Masaba MP who will be seeking the Nyamira gubernatorial seat, is 64 years, while Woman Representative Jerusha Momanyi is 62.
Kisii County Assembly nominated member Eric Janganya said the region has lagged behind "because of the continued recycling of politicians who have no touch with the people on the ground."
"It is time to usher in young minds with fresh ideas. This region is endowed with rainfall throughout the year coupled with good soils. Yet food production continues to diminish because our people want to elect to office some of the old and tired leaders," said Janganya.
Janganya believes that youthful politicians could "break the yoke of clannism, corruption, and under-development in the two counties and add flavour and freshness in leadership."
Enock Ongiti, an advocate, said the region is ready for a new political path. "The hope of our people must be restored for a better future."