ODM leader Raila Odinga's son registered in Mudavadi's party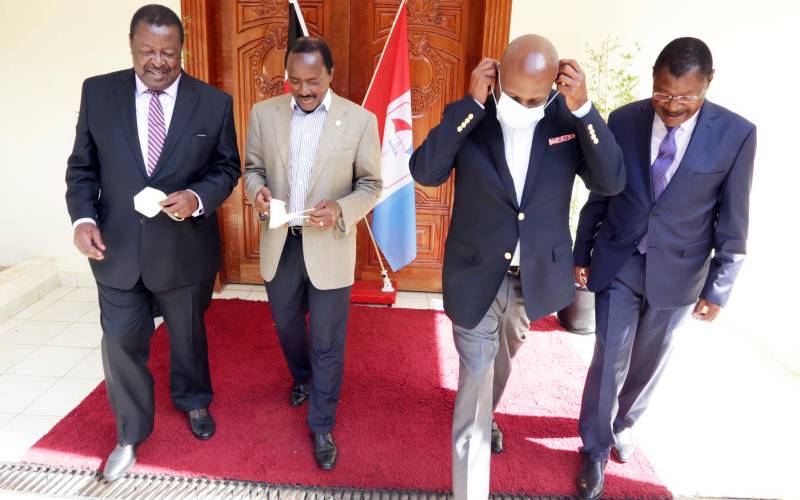 Raila Odinga's son, Raila Junior, is among many Kenyans who woke up to find themselves registered – seemingly fraudulently – to political parties on the State's e-citizen platform.
Raila Jr – listed as a member of the Amani National Congress and not his father Raila Odinga's Orange Democratic Movement, as would be expected – took to twitter to express his surprise at the revelation.
"Aiy! What is happening here?" he posed. It is the same question that shocked Kenyans who have asked over the last 24 hours after finding themselves enlisted into parties they did not know.
Just like Raila Jnr, Kenyans were up in arms questioning how they were registered as members of various political parties and termed it a scam, coming just 13 months to the 2022 General Election.
The discrepancies are enormous with some even registered as members of President Uhuru Kenyatta's political party Jubilee from 2008 yet it was formed in 2017. For Musalia Mudavadi's ANC, those registered as members have no registration date.
Information, Communication and Technology Cabinet Secretary Joe Mucheru also waded into the matter, saying that some people may have registered unknowingly.
"We have provided people with the transparency they need to ensure their data is not being used without permission," he said.
"The political parties will be given the notice to facilitate for those who want out to be removed by the data commissioner. Don't people forget that they signed up using USSD or even SMS and there are records? That said, it should be lauded that we have provided people the transparency and access to information," he added.
But as Kenyans poked holes on the party's membership registrations, with some even mocking them, Ms Anne Nderitu, the Registrar of Political Parties, downplayed the concerns, arguing that it was just a pilot phase and therefore no cause for alarm.
Some said their private data has been misused and sought immediate remedy from the office of the registrar of political parties.
"As an office, we do not conduct registration of members for political parties, we are just custodian of their registers and therefore the data in these registers purely belongs to individual political parties," she told Standard Digital.
In a statement issued on Friday, Nderitu had said her office was running a pilot programme that would allow the public check their political party registration status and would meet political parties once the pilot was complete.
"There is nothing wrong with what we are doing, once we are done with consolidating this data, we shall issue a comprehensive statement on the way forward," she said.
"We are happy that Kenyans have brought out the anomalies," Nderitu added. She, however, did not reveal how Kenyans would seek to be de-registered as members of the respective parties.
Speaking to the standard, Ms Nderitu said once they have completed the pilot phase on e-citizen, she will convene a meeting with political party officials to deliberate on the way forward.
" We welcome the feedback from Kenyans. This is in order to help in addressing the anomalies when done with the pilot process," she affirmed.
Monitor water pumps remotely via your phone
Tracking and monitoring motor vehicles is not new to Kenyans. Competition to install affordable tracking devices is fierce but essential for fleet managers who receive reports online and track vehicles from the comfort of their desk.