My encounter with crying president and his white handkerchief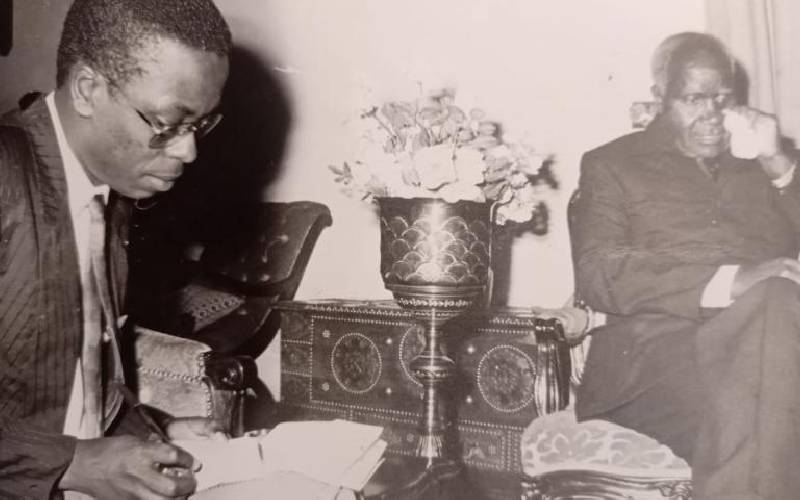 When former Zambian President Kenneth Kaunda died on Thursday, it stirred memories of one of my most outstanding feature stories I wrote in my 19-year journalism career at The Standard.
On a rainy February morning in 1993, my then Features Editor Mumbi Risah, assigned me to interview Kaunda, who was on a visit to Nairobi, and write a colour story.
Kaunda was then a civilian, having lost his presidential seat in 1990 during his country's first multi-party elections.
During the event at Moi International Sports Centre, Kasarani, Kaunda had read a poem titled 'Africa'. Towards the last stanza, he broke down, flashed out his handkerchief and wept quietly as photographers clicked away. I booked an exclusive interview with him through his personal assistant the next day. My editor had stern instructions: "I want a close-up picture of Kaunda crying, make the story emotional, and ask him what makes him weep all the time."
Kaunda, who had ruled Zambia for almost three decades before exiting in 1990, had made the white handkerchief his symbol. He would wipe away tears in public functions and cut short speeches as he got emotional.
We found the former president in a jovial mood, far from the statesman who had wept at Kasarani Stadium the previous day.
We had only 30 minutes as he was bound for the airport. I could not imagine how photographer Hudson Wainaina, was going to get the picture that Mumbi had ordered. Time was up and Kaunda was still chatting, nowhere close to tears.
I remembered that Kaunda's son, Masuzyo Gwebe Kaunda, had died of Aids-related complications in 1987 and it had devastated the president. I thought quickly: "Mr President, because HIV and Aids remains a big health challenge in Africa, please finish by telling us shortly about your experience when you lost your son to the condition."
He did not talk for a while. Kaunda reached for his pocket and brought out the white handkerchief. Tears started flowing down his cheeks. Fare thee well great statesman of Africa. 
[Maina Muiruri is the chair of Media Council of Kenya]