Migori residents concerned over howling hyenas, stench of dead bodies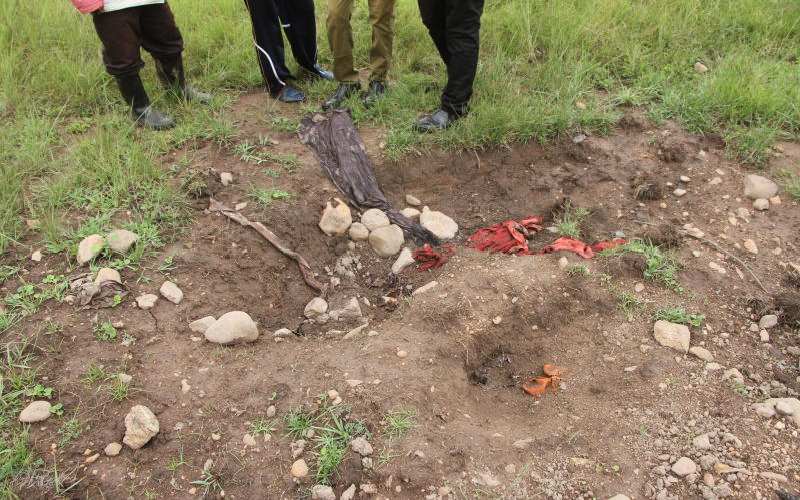 Residents of Kiterere in Ragana, Suna West, have raised concerns over dead bodies being pulled from graves by wild animals at the poorly-managed Migori County cemetery.
The residents say as a result, they have been left with no other option but to live with the stench coming from the open graves.
Emma Ambura, a resident to The Standard every night the howling hyenas fighting and feasting on the human remains have left them scared from leaving their homes.
"In the morning what remains are bodies pulled from shallow graves with bone strewn all across the graveyard," Mrs Ambura said.
On Friday, a spot check by The Standard established that several graves had been left open after the hyenas burrowed through.
Mrs Ambura said about ten fresh graves had been completely unearthed by the scavengers with bones, flesh, blankets and body bags for burial scattered across the site.
"It very disturbing and scary as we hear sounds of hyenas fighting over the bodies in the night. Those contracted to dig graves at the sites or children who access the site as they play have horror stories to tell," she said.
Ambura said when the wind changes direction they are left with no option but to deal with the odour.
Ambura's sentiments are echoed by Hudson Saisi who said they are now afraid the hyenas will turn into attacking them when they will have nothing to feast on at the cemetery.
While calling upon the County Government to move swiftly and ensure the bodies are properly disposed of, the villagers said they have been terrorized by the animals for the last few weeks.
 "It is very disturbing when young children see dead bodies, some pick bones when playing and they are traumatized. If the bodies cannot be disposed of properly, the county should then relocate the cemetery to a place not easily accessed," pastor Reuben Choga said.
In October 2017, the residents also complained of trauma and risk of contracting diseases as wild dogs burrowed through the graves removing the bodies.
Despite many calls on proper management of the cemetery, the site has been neglected without maintenance and proper procedures on how to dispose of the bodies.
When contacted for comment, Environment Executive Rebbeca Maroa said because of Covid-19 restrictions, she was working from home but had referred the matter to her health counterpart Kephas Nyamita.
 "It is an environmental hazard, as a department, we dispose garbage and not bodies," she said.
 But Nyamita said the county does not recognise the site which was inherited from the council and they have never buried a body there.
He said it is not clear who issues burial permits to the site.
"Sometimes it is locals who bury there without the knowledge of the County, we have never buried a body at the site. The county takes up the matter and shall do the necessary follow-up," Nyamita said.