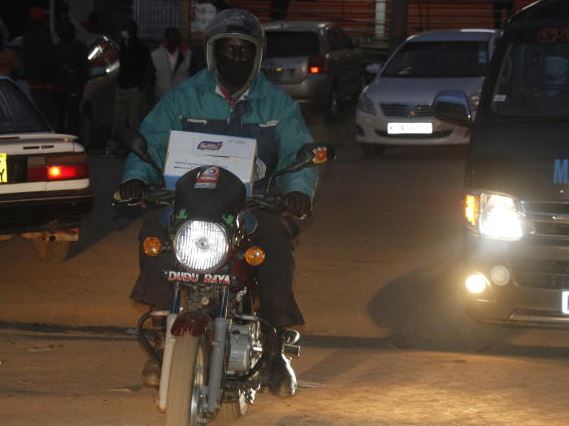 Residents and business owners were in a rush on Friday evening to beat the 7 pm-4 am curfew in twelve counties.
In Migori, matatus and boda boda operators were still operating past 7 pm. Police said they could give residents an allowance of 15 minutes to get to their homes.
 In Kisii, police officers and County Enforcement officers spent the better part of the day going round the County sensitising locals on the measures that have been put in place by the Government.
 A county government vehicle mounted with a public address system went round in major markets announcing the 7 pm-4 am curfew and lockdown.
Several drinking joints and hotels closed as early as 5 pm with uniformed police officers patrolling the streets a few minutes past 7 pm.
Kisii County Commander Francis Kool said movement within the hotspot counties will highly be discouraged.
"Let us adhere to the laid down measures. The measures are meant to help us reduce the rising cases," he said.
In Homabay, security officials began their patrols a few minutes to 7 pm. County Commissioner Moses Lilan said the officials will be patrolling various parts of the county to ensure residents comply with the order.
"Our officers are going to patrol to ensure residents comply with the regulations aimed at reducing the spread of Covid-19. Let everybody comply to enhance the fight against the disease," Lilan said.
He added that they are also putting roadblocks on the highway connecting Homa Bay and neighbouring counties such as Kisumu, Kisii, and Migori.
"We are discouraging unnecessary journeys between our county and neighbouring counties. We have reached a point where five out of 10 people tested positive for coronavirus. We have to focus on compliance with the protocols."
The Lake Region Basin has been recording an alarming number of Covid-19 cases, a move that has forced the Health Ministry to consider the region a hotspot.
Accumulatively, the region has been accounting for almost 60 percent of the Covid- 19 caseload with a positivity rate of 21 percent compared to the national average of nine percent.
Today, Siaya County recorded the second-highest cases in the country at 138. Kisii, Migori, Homabay, Kisumu recorded 24, 3, 30 and 92 respectively.
Report by Eric Abuga, James Omoro and Caleb Kingwara.