You've no way out but to appoint the six judges, CJ Koome tells Uhuru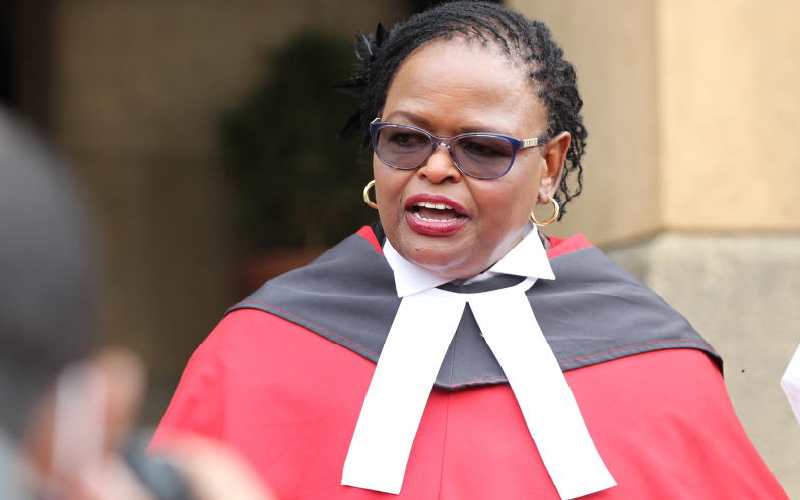 Chief Justice Martha Koome has said President Uhuru Kenyatta has no way out but to appoint the six remaining judges who were left out.
Speaking during the swearing-in of Daniel Musinga as the president of the Court of Appeal on Frida June 11, Koome said it was a bitter-sweet moment for the Court of the Appeal because they have seven new judges but could not get the other four who were left out.
"As Chief Justice and the chairperson of Judicial Service Commission (JSC), all persons recommended for appointment by JSC must be appointed as judges," she said.
She appealed to President Kenyatta to appoint the remaining six judges to join their colleagues in various courts, four of them to the Appellate court.
"I am duty-bound to reiterate this position and call on President Kenyatta to appoint the six remaining judges four of whom will join this court," she said.
Koome said the Judiciary is in danger of capture by government agencies, politicians, private entities and people she did not want to name.
She said recent attacks on the court and judicial independence are worrying, but urged judges to remain steadfast and safeguard their independence.
"You wonder what happened to our oath of office when a judge is being told not dare touch a matter or told to rule in certain ways," she said.
She urged other arms of governments to respect the independence of the Judiciary as outlined in the Constitution.
While addressing National Assembly Speaker Justin Muturi, the CJ cited the lack of enough funds as a hindrance to the Judiciary's performance.
She said the Sh17 billion given to Judiciary in the 2021/22 Budget is not enough hence more should be made available to improve the court system.
"To tackle the backlog of cases and improve the courts' infrastructure and take justice closer to the people, the funding must be increased," she said.
Koome congratulated Musinga as an experienced judge who will do a good job at the helm of the Appellate Court.
 "I have no doubt the same tempo established by Justice Ouko will be sustained not only in leadership but also in enriching our jurisprudence during Justice Musinga's tenure
Koome hailed the Court of Appeal under Justice Ouko for doing a good job despite, having fewer judges urging Justice Musinga to ape that.
"Despite fewer judges, the court of appeal has been working hard and did well to reduce the backlog of cases due to endemic shortage."
President Kenyatta on June 3, left out four judges nominated by JSC to join the Court of Appeal and two others to join High Court divisions.
Justices Joel Ngugi, George Odunga, Weldon Korir and Aggrey Muchelule, who sought appellate court positions are among the six left out in President Uhuru's appointments this evening. Also left out are Evans Kiago and Judith Omange who would have joined the Environment and Land Court.