How members of disciplined forces will spend Sh294.5b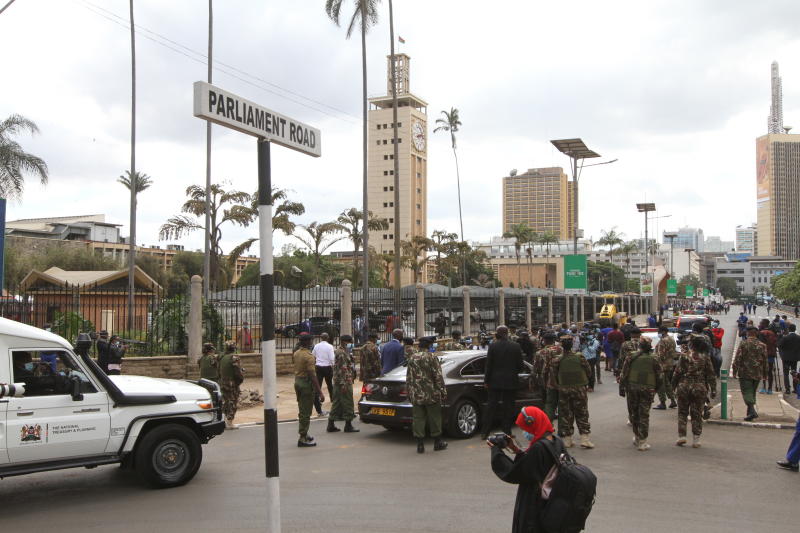 National security is among the dockets that will be the biggest spenders in the 2021-2022 budget.
The ministry has been allocated Sh294.5 billion, which will be used to support operations of the National Police Service, Defence and National Intelligence Service.
Defence will get Sh119.8 billion, National Intelligence Service (NIS) will have Sh42.5 billion and Sh110.6 billion will be allocated to Policing and Prisons services. Defence is among the top five ministry allocations, coming in third after treasury and health ministries. Of independent offices and commissions, NIS has gotten the second highest allocation after Teachers Service Commission.
The budget for Defence ministry has been on an upward trajectory, but in this financial year, it has been cut by about Sh2.5 billion. NIS budget has also significantly reduced. The spy masters  had been allocated Sh45 billion last financial year which has been reduced by Sh3 billion this financial year.
To enhance easier movement of security teams, the government has set aside Sh10.7 billion for leasing of motor vehicles. In line with the modernisation programmes that government agencies have been instructed to embark on, treasury has set aside Sh1 billion.
The security agencies are also expected to improve their surveillance after being allocated a significant amount of money. "I have set aside Sh1.5 billion for the national communication and surveillance system, and Sh335 million to equip National Forensic Laboratory," said Treasury Cabinet Secretary Ukur Yatani.
Gloom blooms amid Budget optimism
Twice, history has placed Treasury Cabinet Secretary Ukur Yatani at the heart of the country's finances at one of the most difficult times…