Lawyers in court to revoke 34 judges' swearing-in; matter certified urgent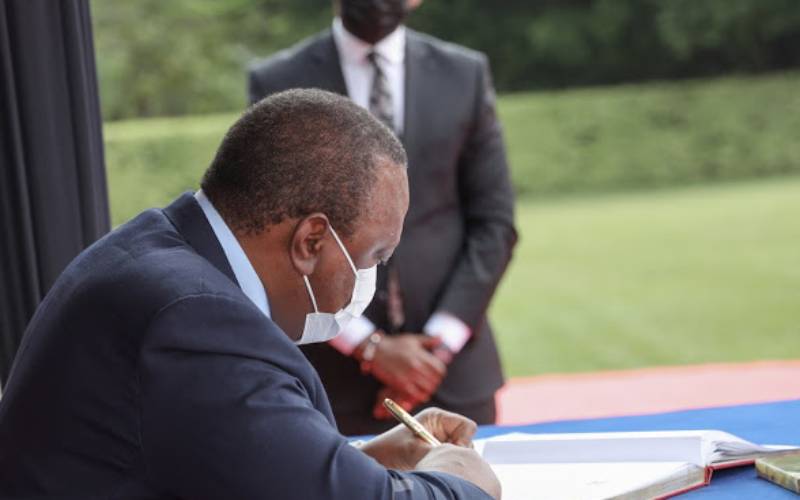 Three Nakuru-based lawyers have filed an application to have the oath taken by 34 judges on Friday, June 4 revoked.
The lawyers Kipkoech Ng'etich, Peter Okiro and John Ochola, argue President Uhuru Kenyatta's selective appointment of the judges was unconstitutional.
The trio claims the Head of State does not have powers to pick who to appoint and who to leave out from a list forwarded to him by the Judicial Service Commission (JSC).
The lawyers have listed the Attorney-General as the respondent.
The petitioners are also seeking to have President Kenyatta's Gazette notice that listed 34 judges for appointment declared null and void.
The application was filed on Tuesday, June 8 before Justice Hillary Chemitei of the Nakuru High Court.
Ng'etich, Okiro and Ochola argue the only way out for the President, is to appoint the six judges he had left out.
"The applicants want the swearing-in of 34 judges at State House, Nairobi on Friday, June 4 declared illegal," reads the suit in part.
According to the trio, Kenyatta took an administrative action that was "unlawful, unreasonable and unfair".
They are arguing the President abused his power and took discriminatory actions that were "made in bad faith".
"The President made a list from his own personal thinking, and not from the legal and merited list that was provided by the JSC," read a part of the suit.
The lawyers argue Kenyatta's role was to "appoint, swear in and gazette; not to scrutinise the list".
The scrutiny, according to the three, was conducted in a transparent and competitive manner during recruitment by the JSC between July 22, 2019 and August 13, 2019.
Eventually, 41 judges were deemed fit for promotion, said the applicants.
The lawyers' application was certified as urgent, and will be heard on June 14.
The six legal practitioners left out by President Kenyatta during the recent appointments are Justices Weldon Korir, Joel Ngugi, George Odunga and Aggrey Muchelule; High Court Registrar Elizabeth Omange and Chief Magistrate Elvis Makori.
Meanwhile, lawyer Apollo Mboya has written to Chief Justice Martha Koome seeking access to information about the swearing-in of the 34 judges; how it was planned, and whether the JSC was notified in advance.
Mutunga's open letter
In an open letter to President Kenyatta, former Chief Justice Willy Mutunga said on Tuesday, June 8 that Kenyatta should not treat State offices as "personal property".
Mutunga stated the law does not give the President powers to usurp the JSC's functions.
Monitor water pumps remotely via your phone
Tracking and monitoring motor vehicles is not new to Kenyans. Competition to install affordable tracking devices is fierce but essential for fleet managers who receive reports online and track vehicles from the comfort of their desk.