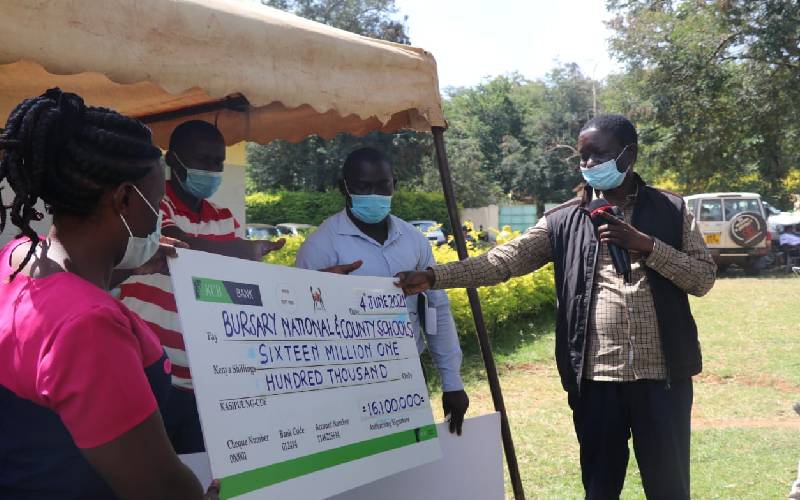 Kasipul NG-CDF has disbursed over Sh36 million to needy and vulnerable students in the constituency.
The money has been distributed to 5,200 students from the constituency. The learners include those in secondary schools, tertiary colleges and universities.
While distributing the cheques at the CDF office in Oyugis town on Friday, June 4, area MP Ong'ondo Were challenged the learners to now work hard in school.
"Our is to ensure the bursary is disbursed and reach school various schools in time, it is now the students to take advantage and better their grades in school," he said.
The MP said his objective is to enable as many students as possible to acquire education.
Needy cases
He noted that there were many students in the constituency who cannot afford education unless they are supported financially.
"Education is the best investment which can be given to a young person. Our objective is to ensure students from this constituency get education to help them in their future lives," Were said.
Were said his aim is to ensure there are many productive people in the constituency in future.
"The only way to have a proactive future generation is to invest in education," Were said.
Nominated MCA Mary Gaya, who accompanied the MP, said the bursary programme will empower young people to be self-reliant in future.
"Education enables young people to be job creators and enable them to be independent in life besides employing other people," Gaya said.
She urged the students to take advantage of the programme and utilise it maximally.
 "Let our youth know that whoever gives you the opportunity to pursue education gives you a long-term investment. Use this programme," Gaya said.
Parents expressed hope that the bursary had reduced their financial burden.
John Magak, a parent, said paying school fees had become a problem due to the outbreak of Covid-19 in the country.
"We live in economic hardship and this programme of paying school fees for my child is a sigh of relief to my family," said Magak.
The Sh36.05 million was shared among 2,300 and 1,600 students in day and boarding secondary schools, respectively.
Another group of 1,300 students in tertiary colleges and universities benefited from the bursary.
The students who benefited from the bursary funds study at various institutions across the country.