Kiambu: Contractors lose Sh6m after robbers access house through drainage tunnel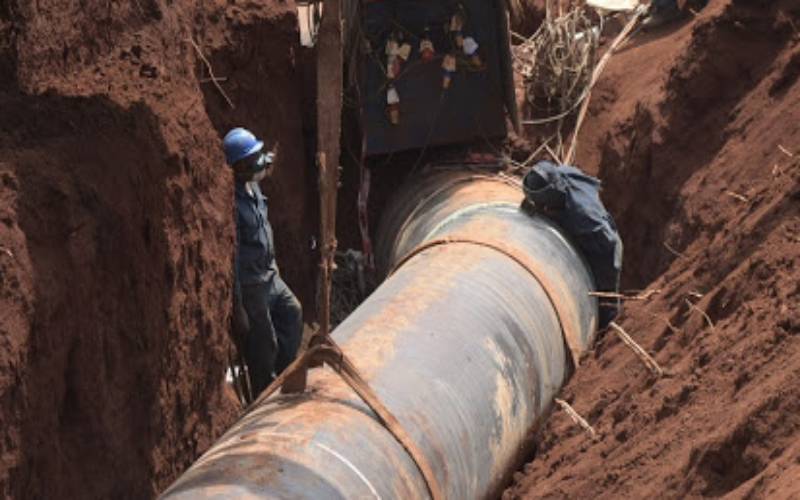 Two Karimenu II Dam contractors lost Sh6 million to robbers on Saturday, June 5.
The victims, identified only as Kung and Zhang, were at home in Gatundu North, when the three robbers gained entrance to the house through a water drainage tunnel at 1am.
The robbers were armed with a pistol and knives, a police report filed on Saturday, June 5 at the Kamwangi Police Station under the OB Number 2/5/6/2021 says.
After grabbing the cash, the robbers escaped to an unknown destination.
It remains unclear why Kung and Zhang had Sh6 million stored in the house.
Kiambu County Police Commander Ali Nuno, Kiambu East Sub-County Criminal Investigations Officer, police officers, Gatundu North DCI detectives, Kamwangi Police Station OCS and the Sub-County Police Commander visited the scene; Site One area at the Karimenu II Dam.
"The Kiambu County Criminal Investigation Officer (CCIO) is dealing with the matter," the police report said.
About the Karimenu II Dam
In the Feasibility Study and Master Plan for Developing New Water Sources for Nairobi and Satellite Towns study carried out in 2012, Karimenu II Dam was recommended for development as one of the sources to supply water to Ruiru-Juja towns and the adjoining areas.
The Karimenu II Dam Water Supply Project is located in Kiambu County, Central Province of Kenya, 75 kilometers North of Nairobi. The Karimenu II Dam is being constructed across Karimenu River.
Karimenu II Dam is being implemented under the EPC-F framework by Joint Venture between M/s AVIC International Holding Corporation (AVIC) and M/s Shanghai Municipal Engineering Design Institute (SMEDI) with financing from China Exim Bank and the Government of Kenya.
The Sh24 billion contract was signed on May 9, 2014 with a construction period of 36 months and 12 month Defects Notification Period.
The construction works commenced in May, 2019 and are scheduled to be completed by May, 2022.