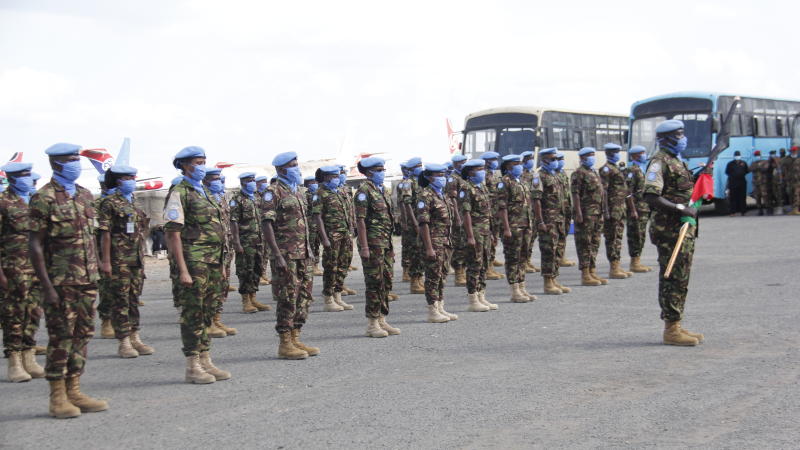 After being away from her family for about two years, Senior Private Hildah Makandi is happy to be back home.
Makandi was among the 75 troops from Military Police Company who were deployed in Darfur, Sudan for a peacekeeping mission.
When she left the Jomo Kenyatta International Airport on September 18, 2019, Makandi was to be part of the United Nations mission assigned to ensure Sudan attained sustainable peace after years of civil wars.
The officers were received at JKIA by Kenya Army Deputy Commander Major General Albert Kendagor on behalf of the Chief of Defence Forces General Robert Kariuki Kibochi.
"I'm happy to be back home. It was a fulfilling mission," she said.
The conflict in South Sudan began in December 2013 when a power struggle emerged between Salva Kiir and Machar.
The feuds escalated into civil war leaving thousands of citizens killed and with millions fleeing their homes.
"Women and the elderly people bore the brunt of the violence but now they can access basic services. The humanitarian agencies can also access the displaced families for supply of basic commodities," said Makandia.
The officers came back after a resolution was reached between the United Nations to withdraw the troops after attaining relative success in democratic governance, and support the protection and promotion of human rights and sustainable peace.
The United Nations-African Union Mission in the Darfur region (UNAMID) was a joint mission that began deployment in October 2007 to restore peace to the war-torn region while peace talks for a final settlement continued.
On December 22 last year, the UN Security Council adopted a resolution to end its mandate by December 31. Final withdrawal is expected by June 31 this year.
 "We are pleased with the work done by the team. We can proudly say that we have attained relative peace in Sudan," said Kendagor, who was flanked by Lieutenant Colonel James Kirumba.
Maj Gen Kendagor said the troops were to return six months earlier but it was extended to June due to Coronavirus pandemic.
The contingent comprised 65 men and 10 women from military police. However, one officer in the team died of Covid-19.
Kendagor said the officer was first hospitalised in Karthoy in Sudan before he was later flown into the country for further treatment before he succumbed to the virus.
The officer commanding the military police corps Major Jackson Muthee said the mission was successful despite encountering harsh climatic conditions and language barrier.
 "We delivered to the UN our main task to investigate and prevent crime. The team executed their mandate with real time resilience despite the climatic and social hardships.
"We had to get interpreters during our investigations which made it difficult to ascertain some information given to the peace keepers," said Muthee.
They were tasked with conducting investigations, crime prevention, traffic rules and regulations, senior personnel escorts, liaison with other government forces.
The contingent will be put 10-day quarantine at their Embakasi base before undergoing the Covid-19 testing.