DPP urged to turn empty container theft suspect into a witness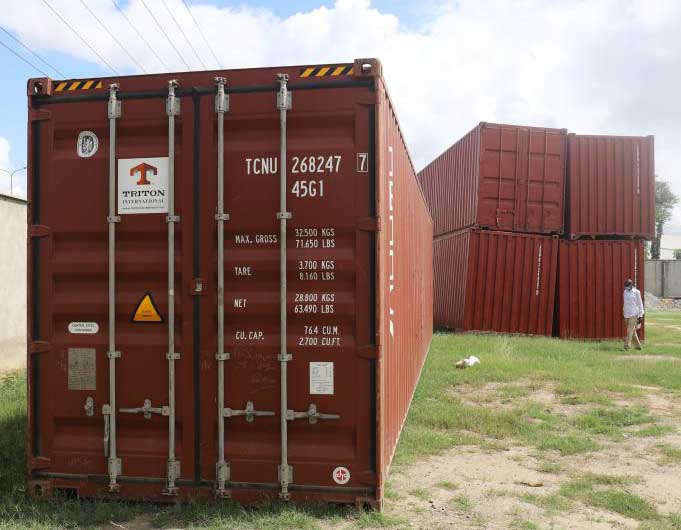 Complainants in the empty container theft now want the Office of Director of Public Prosecutions (ODPP) to treat a man charged in court as a prosecution witness.
They claimed that Bernard Simiyu, who appeared in court on Wednesday, asked them and the police to recover 12 stolen containers from Nairobi.
In a letter dated June 3, Keihin Maritime Services Director Eric Gitonga and Kenmont Logistics Manager Zadock Oudo complained about the prosecution and investigation of the theft cases and sought to have Mr Simiyu treated as a witness instead.
Simiyu was on Wednesday charged with stealing 55 containers belonging to Maersk, the world's largest shipping and logistics company. He was charged with stealing the containers valued at Sh24.8 million from APM terminal in Jomvu Sub-county on March 25, this year. He denied the charges before Chief Magistrate Edna Nyaloti and was released on a Sh10 million bond.
So far, police have arrested John Kanzi Nzomo and three others in connection with the theft of containers.
"That the matters were reported at Changamwe police station and in our investigation assisted by one Bernard Simiyu, we were able to recover 12 containers from Nairobi," reads part of the letter. This enabled police to arrest the main suspect.
The complainants claimed Simiyu assisted them and the investigation officers to locate 30 other containers in Nyeri already fabricated into shops and living houses with container identification numbers still intact.
They expressed surprise at Simiyu's arrest and his subsequent arraignment while the people found in possession of the containers were listed as witnesses.
"We request that Bernard Simiyu be treated as witness for the two complaining companies, and the containers sighted in Nyeri be recovered and the persons holding them prosecuted for handling stolen property," they said.
The letter was copied to the Director of Criminal Investigation, Mombasa county criminal investigation officer, Coast regional police commander and Changamwe OCPD.
Records in our possession indicate that the cartels behind the 'lease' of the empty containers to allegedly stuff export goods later sell them to different people across the country and disappear.
A multi-agency security team has since recovered 12 containers from Mlolongo and Athi River with operations to nub suspects being extended to Kiambu, where police believe some other containers could have been sold to the county government.
It is suspected that more than 100 empty containers have been stolen from various people in Mombasa since January this year.
An empty container goes for about Sh600,000 if acquired through legal channels but the cartel sells them as low as Sh150,000 to unsuspecting buyers.